New Outlook, new challenges for the new year 2011 for
01/01/2011
Welcome 2011

The new year marks beginning of third year of 'One Thousand Hockey Legs'.

It has so far been so interesting and inspiring that we look forward to 2011 as a year of consolidation.

We could convince and start hockey in about 30 schools spread over five cities – Puducherry, Kanpur, Kolkata, Chennai, Delhi -- where hockey was not in the list of sports being practised before we knocked their doors.

That about 30 schools are enrolled with us is a great feeling for those in the Hockey Citizen Group who ventured into the new domain with bare interest to do, without much pre-knowledge in the new terrain.

It is a good achievement, first firm step towards realizing the cherished dream of creating a hockey culture in the grassroots.

By and large, schools we approached are keen to start hockey – and the main issue before us was, and is, to sustain the interest.

Conducting city league, encouraging campus matches, carrying out quiz and essay competitions, and many interactive sessions do help us sustain the interest.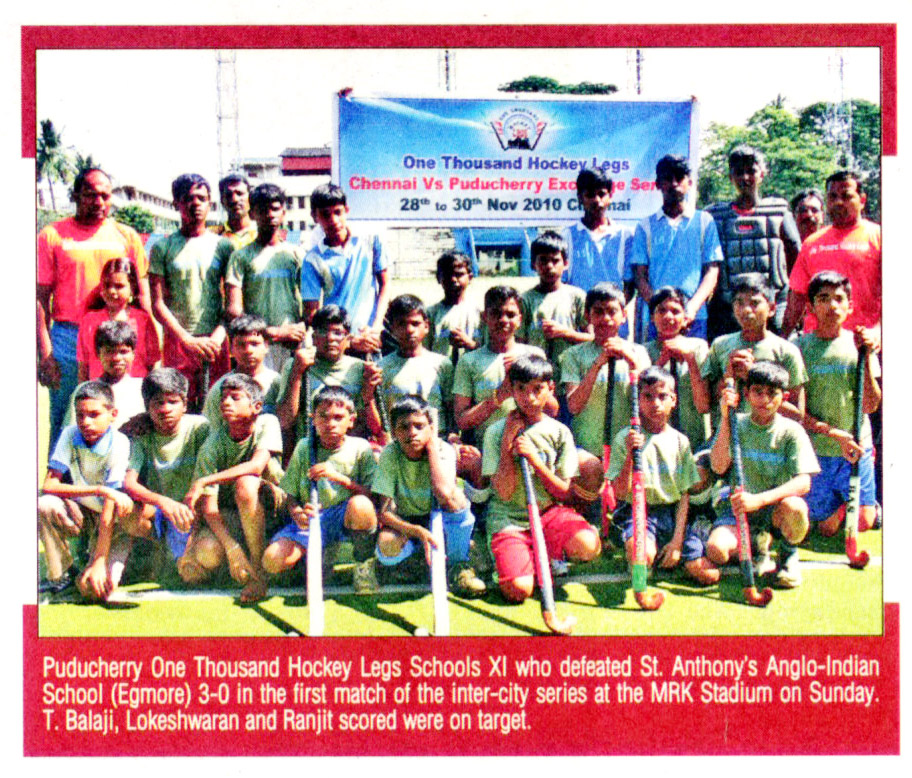 Media coverage of Puducherry team's visit to Chennai
Various publications as to hightlight the hockey stars and the game's intricacies are good steps, but the area of content needs much more effort to create the intended effect.

We have so far kept low profile insofar as media is concerned, though we have been taken note of here and there.

When we organized the first OTHL inter-city exchange tour – between Puducherry and Chennai – last month, the enthusiasm of the visiting team was well evident in more than one way. The students and supporting staff followed all the strict code of conduct by letter and spirit and it has motivated us to go in for such tours in other OTHL centres as well.

Organizing events in Kolkata and Kanpur, to bring it on par with Chennai and Puducherry are our immediate priorities.

We have take baby steps with respect to Delhi. To bring 6 or 7 schools under our umbrella and then initiate teams therein is another focus area.

We need more volunteers for Delhi and Kolkata, hope to get tem all in the new year.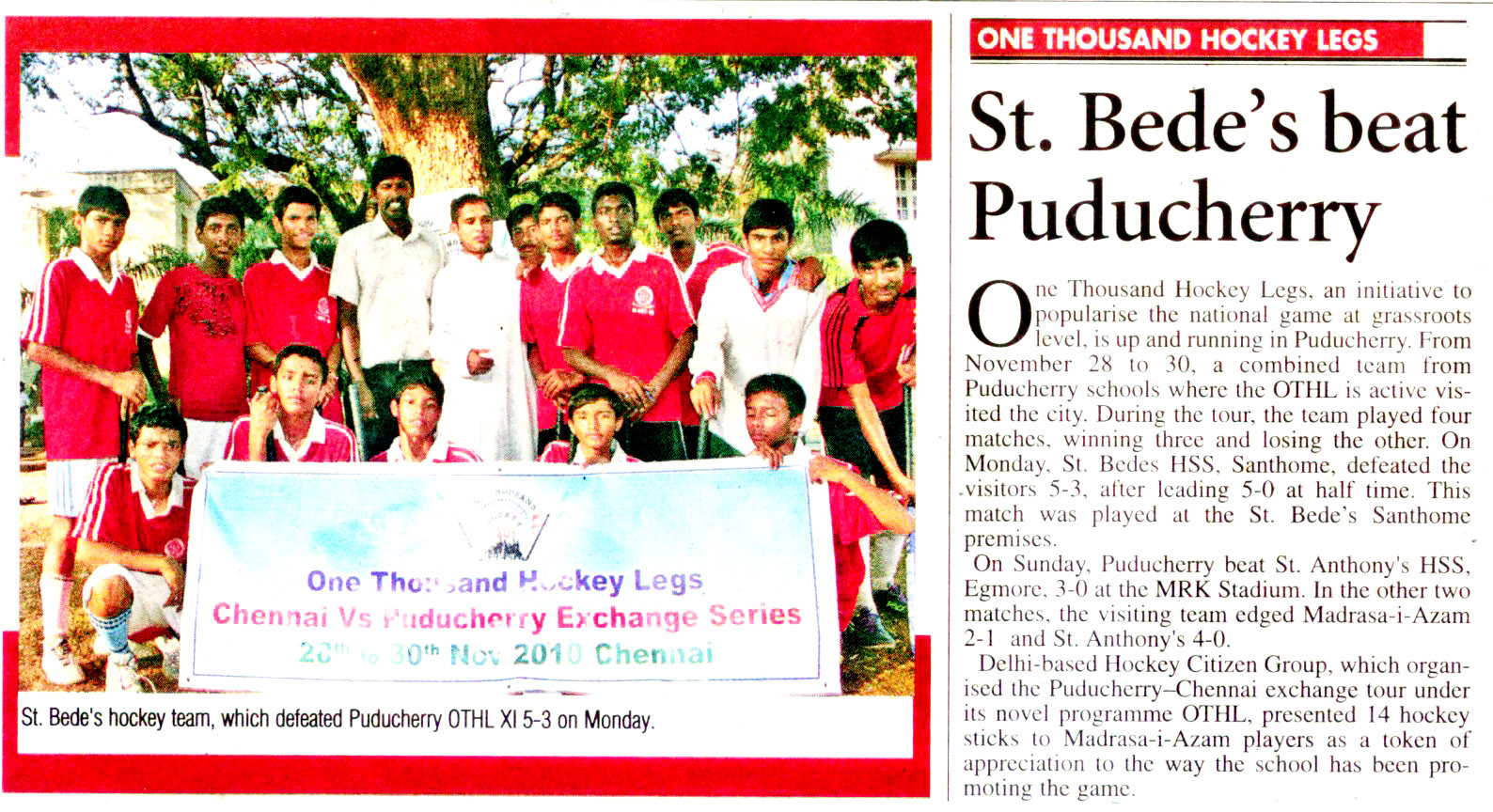 Exchange Series results as carried out in DeccanChronicle, Chennai
Administratively, we have got the accounts of past two years audited, and are looking forward to firm up this advantage with fulfilling other legal needs.

By and large, so much has been done, but to move ahead, much more has to be done.

With all your wishes we will be moving ahead.

2011 is our Year of Consolidation before embarking on next level of operation in 2012.

When recently authorities in Puducherry conducted a trail for selecting junior team for a national championship, they were pleasantly surprised to see double the number of aspirtants compared to previous occasions. This is the enthusiasm, this is the impact we are able to create in a short span of time.

This is the kind of contribution – silent revolution of sort – we want to make.

We are inching towards our target, am proud of everybody's involvement, leading to what could achieve for our pet 'One Thousand Hockey Legs'.

Let us walk together to cover another mile ….