Hockey Citizen Group, which runs globally acclaimed One Thousand Hockey Legs' (OTHL) project is a not-for-profit organization. Its volunteer based public service organization. OTHL aims to improve the profile of young kids, mostly from lower profile strata of stratified Indian society, and provide them joy in their childhood.
OTHL visualizes a career for underprivileged kids of age 11-16, provide them an opportunity to play sport in their school thereby ensuring they attend school regularly and take interest in both sports and academic.
We seek to introduce the sport of hockey to at least 500 kids across 25 schools in each city and provide them free equipment, coaching and competitions and guide them to achieve their academic and sporting ambitions. This program has been running in 5 cities of India since last TEN years, and helped around 2000 kids seek pleasure in sport, and consider it a tool for career advancement. Many boys have been adopted by leading schools on sporting merit, and thus got free education. While the cream talents got selected for various Sports Hostels run by the government agencies where the kids get free boarding and lodging, equipment and training. We insist on quality education, and let sports go hand in hand with education, and also organize various skills training.
Hockey is a cost intensive sport, require perfect play ground and constant coaching. We need public support to effectively run the program.
FIRST PREFERENCE:
We require sporting equipment like hockey sticks, shin guards, practice balls, sports wear, shoes etc. Legends like Jaap Stockmann of The Netherlands – who is also World's Number 1 goalkeeper – collected sports goods and shipped to us. His effort is worth of Rs.60-70 lacs but all in kind.
We encourage volunteers run charity runs and collect money for us, like during Delhi Half Marathon, Mumbai half marathon etc.
So far we have got major donations (2008 to March 2016) as given below:
Oil & Natural Gas Corporation: Rs.2 lac
State Bank of India: Rs.1 lac
Gaurav Saxena and Thendral: Rs.1 lac
Shashank Gupta: Rs.1 lac
K. Manickam: Rs.80,000
Kautuk Khare: Rs.1,10,000
Hockey India (HI President Award money): Rs.4.5 lac
Biswajit Ghosh: Rs.1.5 lac
Udith Seth: Rs.1 lac
Gulu Ezekiel: Rs.40,000
K. Arumugam & N. Shanthi: Min Rs.10-12 lac each year
We accept donations through Cheque/ DD or net banking of which details are below
Name of the Account: Hockey Citizen Group
Bank & Branch: State Bank of India, Malviya Nagar (New Delhi)
Account No.: 30755536119
IFSC: SBIN0001493
Only those who have accounts in India can pay donation. All donations will be issued a receipt. Donations entitles 50% rebate on tax under 80G. We do not accept donation from foreign account. All donors need to give their PAN No.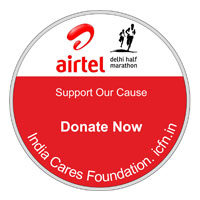 Prashanth, a volunteer ran ADHM Delhi half marathon 2014
to collect funds for OTHL. He could collect Rs. 1.1 lac