DAY 1: OTHL Hockey Festival in Kolkata
12/02/2011
The OTHL Kolkata Hockey Festival 2011 began with much fanfare on Friday, the 11th February at the Ganganagar Julien Day School campus.

All the schools subscribed to OTHL in Kolkata converged here for the much anticipated Festival of Hockey, where matches and quiz events kept the hockey boys and girls enthralled throughout the day. There was energy and enthusiasm abound amidst the kids, which is seen to be enjoyed.

Mr McNamara, Principal of the host School, himself a former hockey and rugby player for the Howrah Union, inaugurated the mela.

FIRST MATCH: The home team Vs Keshabchandra Brahmananda High School Rishra. KC Brahmananda shot into the lead in the 5th minute through a field goal by Subhankar Bag. Siddhartha Barua increased the tally in the 7th minute through another field goal sealing JDS Ganganagarís fate. The Julienites could not find their rhythm although they looked a more mature side than when they had started off one and a half years ago. Some K C Brahmananda boys were extremely high on their skills and combined well.

BEST PLAYERS: Subhankar Bag was adjudged their best player while it was Roland Ryan for the JDS Ganganagar.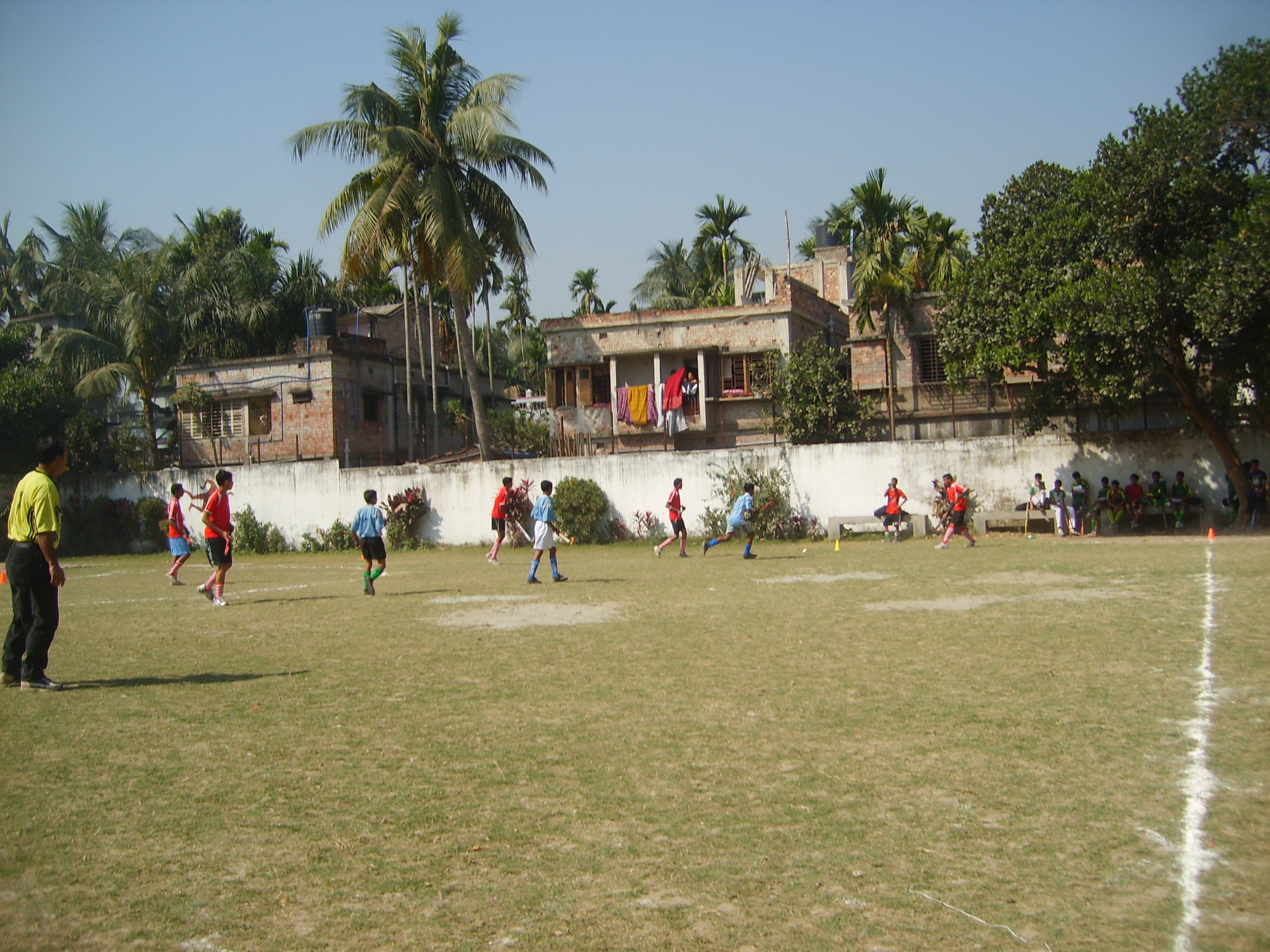 Kanaipur Sriguru High School v JDS Kalyani
SECOND MATCH: Julien Day School Vs, Kalyani and Kanaipur Sriguru High School Rishra. The first half was barren. Kanaipur drew first blood (after half time) through Malay Raha (1-0). JDS Kalyani equalized through Love Shaw in the 18th minute (1-1). Kanaipur went back into the lead in the 19th minute through Malay Raha once again. Suman Dey sealed Kalyaniís fate in the 20th min and the match ended 3-1 in favour of Kanaipur.

BEST PLAYERS Malay Raha was the best player for Kanaipur Sriguru and Love Shaw was adjudged the best player for JDS Kalyani.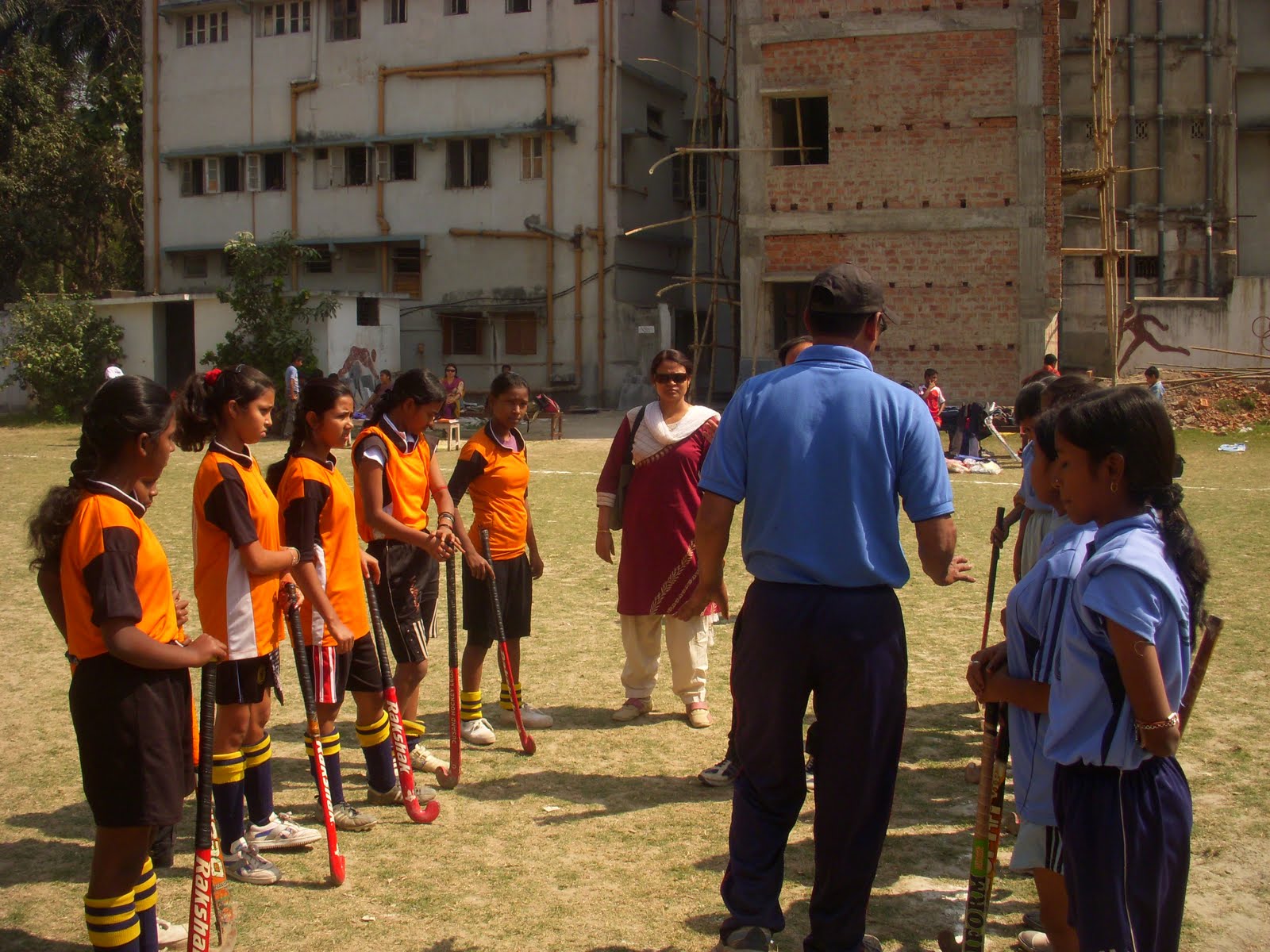 The battle of the arch rival girls, Shanti Sangha Behala in Orange and Kanaipur Sriguru in blue...
THIRD MATCH: Kanaipur Sriguru Girls Vs Shanti Sangha Siksha Mandir Behala, Girls. The Behala were a depleted side, having fielded just six players to somehow make a team as their core players were preparing for their Madhyamik exams. The imbalance was apparent as the Kanaipur girls scored the first goal in the first minute through Kabita Khatun. The second goal came in the 8th minute through Puja Biswas. The Behala girls cheered on by the JDS crowd somehow resisted the Kanaipur girls and prevented more goals from being scored.

The quiz teams from Kanaipur Sriguru and the KC Brahmananda Schools were unprepared for the quiz and opted to appear the quiz contest on the last day of the festival.

Note: Remaining matches in the next article