DAY 1: OTHL Hockey Festival in Kolkata, remaining matches
12/02/2011
FOURTH MATCH: Kanaipur Sriguru boys. JDS Ganganagar upset all calculations when they went into the lead in the 4th minute through Lovepreet Singh. Barely had the shock settled when Lovepreet slammed in the second goal in the very next minute. He completed his hat trick in the 7th minute through a third field goal. Sudip Mondal reduced the margin for the Kanaipur boys in the 8th minute. The second half did not see any goals but saw some frayed tempers. Individual play with desperate dribbling made matters worse for the Kanaipur Boys.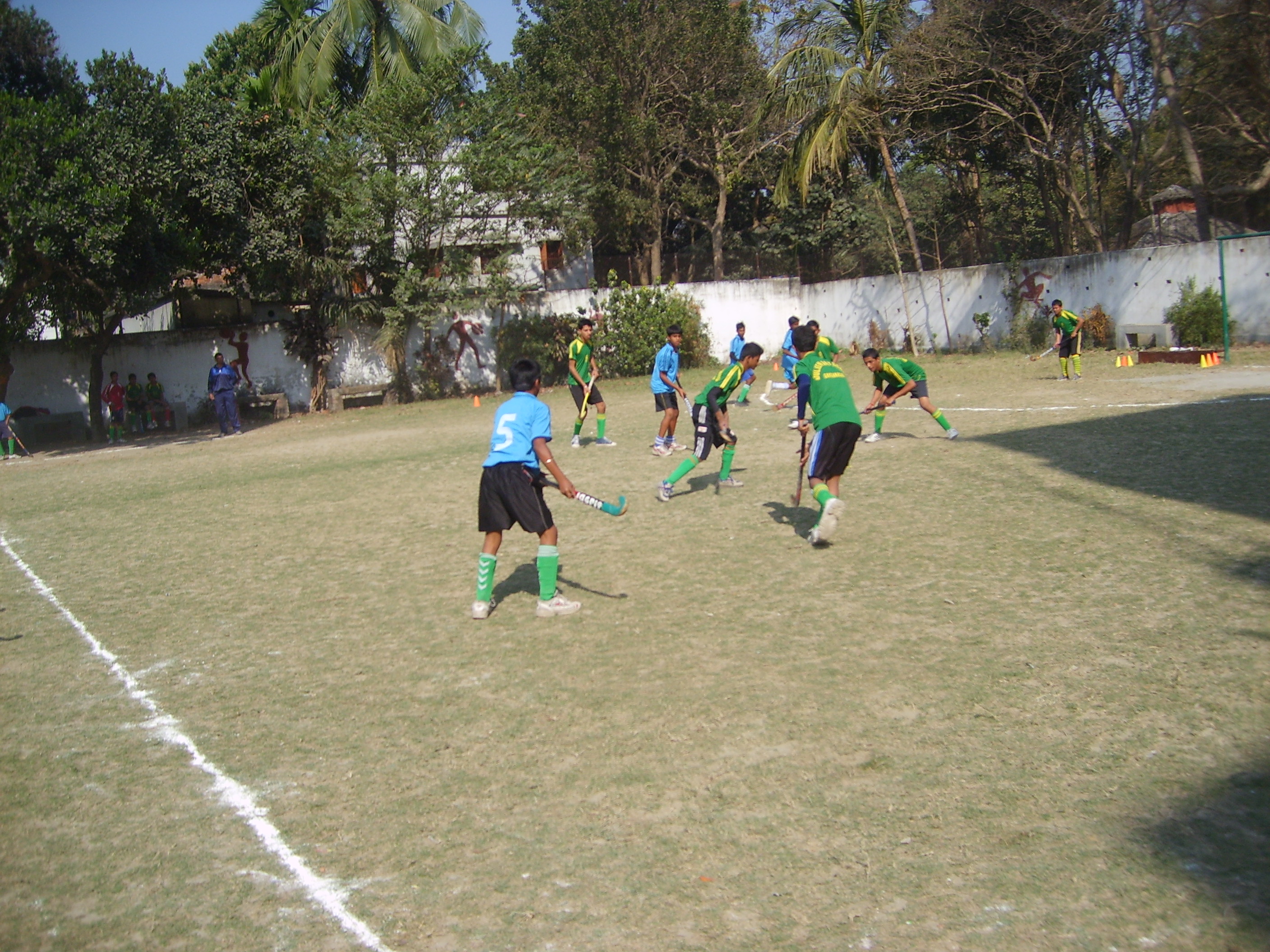 KC Brahmananda v JDS Ganganagar, the action has started
FIFTH MATCH: This is repetition of the fourth match to complete last year's pending match. The Kanaipur boys were still smarting from their shock defeat in the previous match. The JDS Ganganagar went into the lead in the 5th minute through Rajat Mishra. Kanaipur restored parity in the 9th minute through Malay Raha. Kanaipur shot into the lead in the 15th minute through Suman Dey. JDS Kalyani retaliated in half a minute by scoring a field goal off a pass from a free hit just outside the striking circle by Rajat Mishra (2-2). The Kanaipur boys strongly protested the goal and surrounded the umpire Dr Shankar Kumar Chatterjee and started an argument but relented when threatened with a suspension. The die was cast. There was some rough play and a Julien Day Ganganagar player was shown the green card for kicking an opponent. A quicksilver goal through Malay Raha got the victory for Kanaipur Sriguru. This time the home team protested but the umpire would have none of it.

BEST PLAYERSSuman Dey was judged the best player for the Kanaipur Sriguru boys and Rajat Mistry the best player from the JDS Ganganagar side.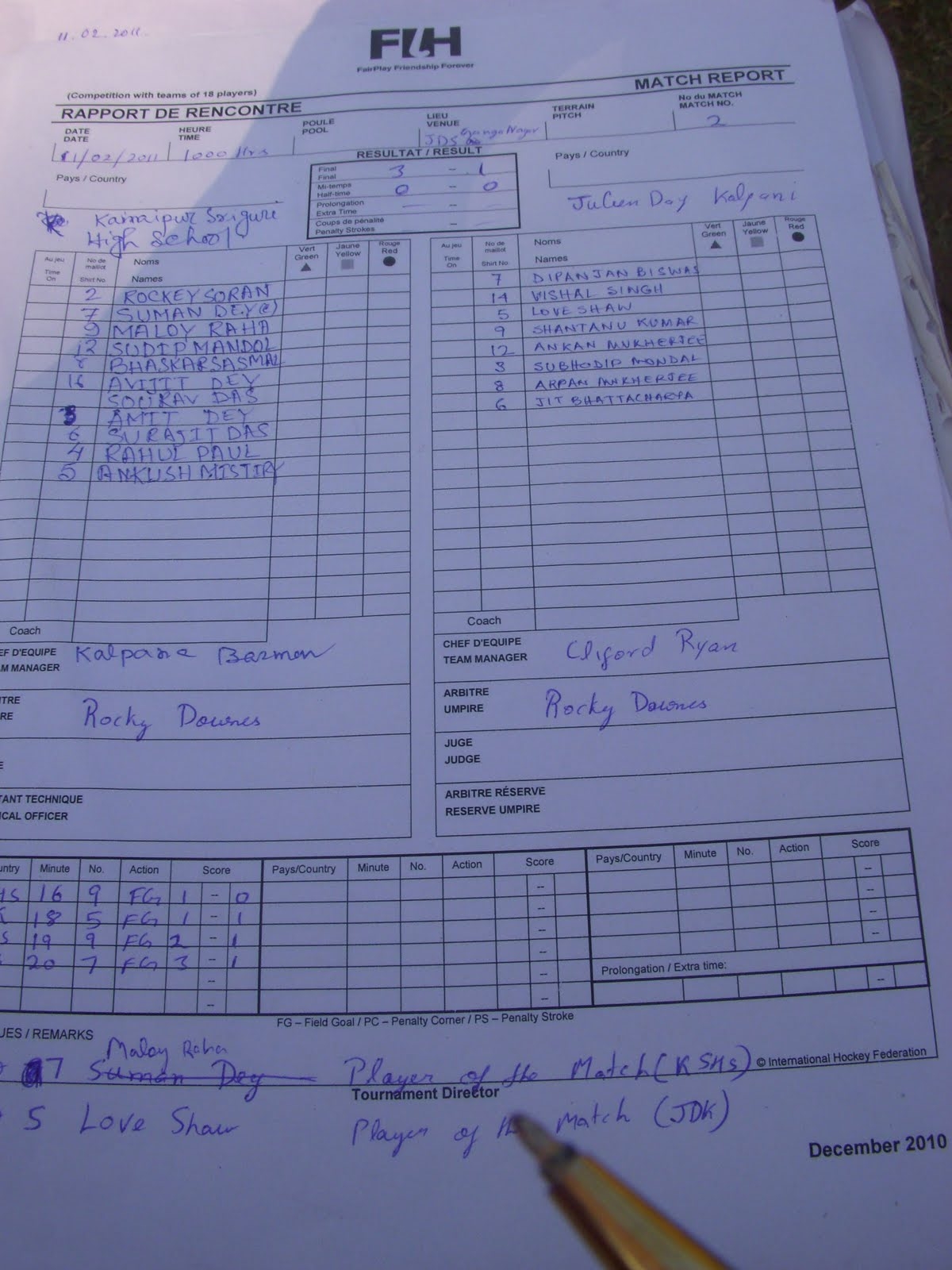 We use FIH match sheet!
SIXTH MATCH: Khalsa High School Vs JDS Kalyani (who arrived late due to a traffic jam). JDS took the lead through gifted boy Sunny Das (1-0) in the 7th minute. But the Kalyani boys gave a sterling performance, matching the Khalsa's move for move and equalized through Ankan Mukherjee in the 12th minute.

BEST PLAYERSAnuj Keshria was adjudged the best player from the Khalsa and Dipanjan Biswas the best player from JDS Kalyani.
LAST WORD: Overall, the Julien day schools Ganganagar and Kalyani have made significant improvement in their standard of hockey having just restarted their hockey programme two years ago courtesy the One Thousand Hockey Legs. Khalsa haven't shown any improvement, though they still remain on top form. The Kanaipur Sriguru High School and the Keshabchandra Brahmananda High Schools have improved greatly. Two players from Keshabchandra Brahmananda and another from Kanaipur played in the K D Singh Babu Under-14 tournament for Bengal recently. Great achievements no doubt, but both teams have to improve on their temperament, learning to take defeats in their stride, and learning from their mistakes.