Emotional Goodbye to Begumpur OTHL School - Part 1
02/07/2014
OTHL leaves the most successful school as it achieves all the target
Hockey Citizen Group was founded with an aim to create hockey culture in schools, inarguably the first step to promote any sport. Hockey Citizen Group (HCG), after a while with intense brainstorming among themselves, conceptualized a project which was named with the achievable target in its mind and also in its label itself: One Thousand Hockey Legs (OTHL).

One thousand is a target, pertaining to number of kids we want to introduce in each school in each city we chose to operate after getting leader-volunteers. We targeted 20 quality kids in each school, therefore one thousand refers to 500 kids, meaning 25 schools in each city.

Along the way, while we keep the One Thousand target in our mind, we also scrutiny what we do in each school after 3,4 years of work. Our idea is to create a hockey culture, and once a strong team is established and a good support system put in place, we are to leave them to manage their affairs on their own, so that we can move on to next target.

Our objective is not to sit on the asset we created, and gain glory out of it for lifetime. No, not at all, our idea and mission is to spread the game as much as possible in educational institutions, once it is done, the sports will take it own good course and manage itself.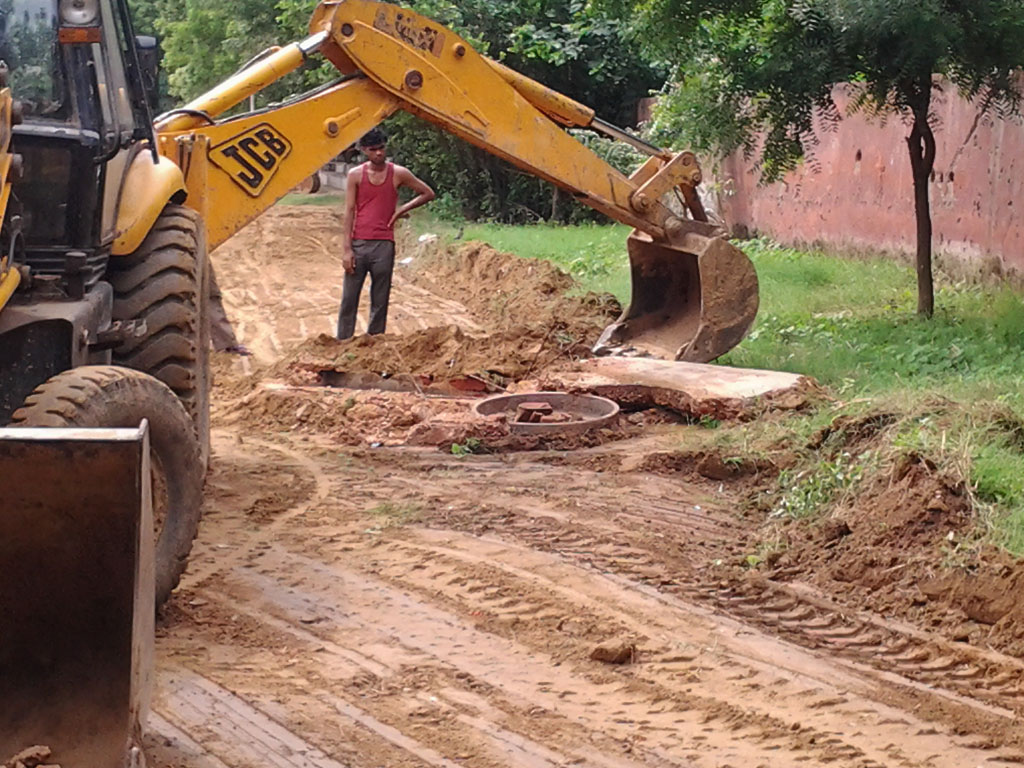 Deployed heavy machinery to clear debris, level the ground
Delhi is the fifth and last city where the OTHL was introduced. It's a fact in Delhi that out of 2400 Secondary Schools, hardly 10 of them have really worthy hockey teams.

We are happy at this point of time that we created 24 good school hockey team in Delhi, with right age boys in place, coach and play ground, though smaller and basic in needs, to support.

Government Boys Senior Secondary School, Begumpur, is one of the many schools tucked into a remote sides of the city; just in the backyards of Aurobindo College, is hardly known in hockey circle before the school was kind enough to embrace OTHL.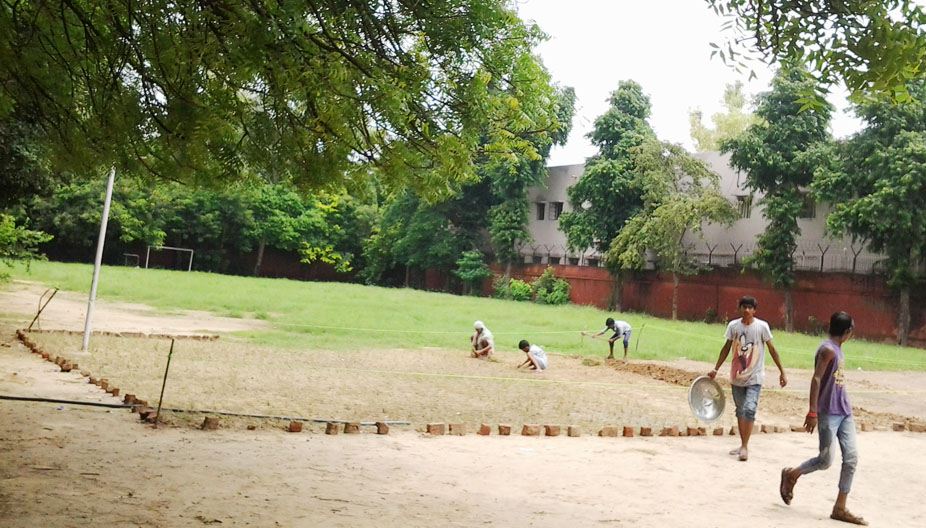 As an experiment, planted grass on sandy top and found it working.
Begumpur is the third school we enrolled in Delhi after Kulachi Hansraj (Ashok Vihar) and Saket. Those who follow OTHL knows for sure Begumpur is the school that gave my NGO a name in the hockey circle. The school did not have any clue on hockey when we took them in the early 2010. There was a basket ball ground, adjoining is a make shift volley ball court. Beyond that a long bush, with thorny shrubs, outsiders often unloading waste building dig outs at their will. The space measuring about 40 X 50 m was diffused, no one daring to go there for the fear of harmful insects it is infested with.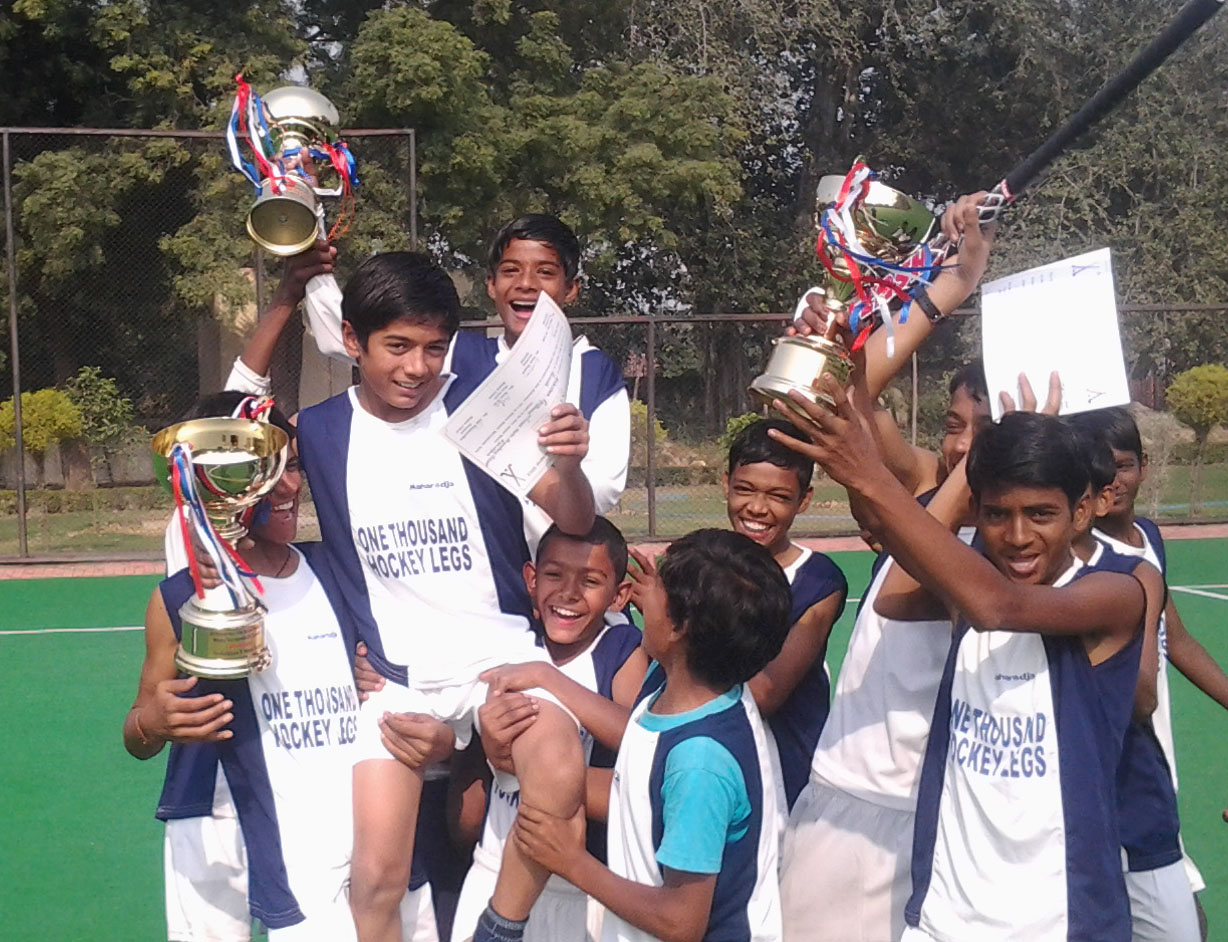 Begumpur boys after winning the Modernite tournament
In three years we operated with the school, we made great strides, and one can easily make out that from the facts below:

***The school won the Modernites Sub-Junior Inter-school Cup TWICE.
***The school reached the QUARTERFINALS of the Waverriders' Inter-school Cup 2013.
***The school's boy was declared Best Goalkeeper of the above Waveriders' tournament.
***The school accounts for top six players of the Delhi OTHL XI team, formed out of 18, 20 schools.
***5,6 players of the school were in the All India OTHL team that played successfully in the prestigious Nehru Cup (Sub-Junior) TWICE so far.
***The school won the inaugural Nehru-OTHL organized Dhyan Chand Sports Day Cup last year.
***5 boys of the school also played the 4th HI Sub-Junior Nationals this year at Vadodara representing Citizen Hockey XI, our OTHL brand therein.
***Two of the boys, so gifted and hardworking, were taken into top brand Delhi institution -- Modern School, Barakhamba Road – with free admission, and the duo lifted the school hockey team to higher level.
***The boys also won medals in athletics! Incidentally, both boys are sons of a rickshaw puller.
***So far only one OTHL boy could break into the strong Delhi School Games team; and he hails from Begumpur stable.
***He played the Ranchi SGFI Under-14 Nationals last year.
***Half of the team that reached the semifinals of the Delhi Education Department's Zonal Championship last year hail from Begumpur.