OTHL boys fare reasonably at the SubJr Nationals (5/1/2017)
01/05/2017
School boys team of One Thousand Hockey Legs, which just finished its engagement at the Bengaluru 7th Hockey India Sub-Junior National Championship (Div B), can look back their performance with pride. With three wins and draw, they did the NGO proud.
Playing against State teams which mostly consists of semi-pro players, meaning core of the team are drawn from Sports Academies and Sports Hostel inmates, the amateurish boys of OTHL have won three of the five matches they played in their six-team pool.
They drew Bengal 1-1 which ultimately topped the pool and thus qualified for the semifinals.
OTHL boys lost only one match -- to Coorg -- which scorewise appeared one-sided in favour of the victors. However, it was due to injury of prime goalkeeper and the OTHL's inability to have an equally calibre second goalkeeper, cost the match.
OTHL, playing on official name Citizen Hockey XI, started their campaign with a positive note, defeating Himachal Pradesh 2-0.
Captain Zainul Samar and Anglo-Arabic school wunder kid Mohd Guffran striking contrasting goal apiece.
The second match against Bengal Hockey Association. Despite missing many sitters, OTHL team was trailing by 0-1 goal till 58th minute before against Zainul came with his drag flick at a penalty corner.
Third match was against Coorg, which produced vast number of international players in the past, and at least three players from the region are in the present India team doing well at Azlan Shah Cup.
Its only match India could not enter the score-board.
OTHL Coach Gurmeet Singh said that his forwards were over-awed initially by the dazzling game of their rivals, but when they woke up to the fact that it is an equal game of chance, it was too late. "The damage has been done".
"The team did not have the confidence. Because of that, they missed many easy chances early in the game", the coach said. "It was because our team lacked competitive exposure".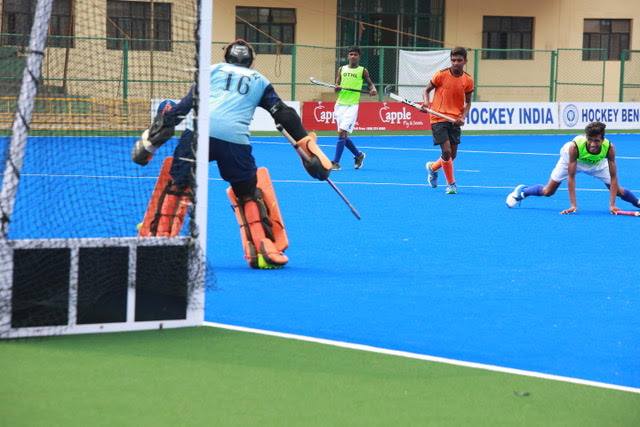 OTHL Boys in action against Coorg team
Almost shattered of their target of qualifying for the semis, the team woke up to reality and did well to beat Telengana state team 3-1, despite missing at least same numbers. Vicky Verma and Pawan, who played the Jammu Sub-Jr Nationals, among the scorers.
Last match was against Vidarbha. It seems our boys were in a good form. Excelling in all departments of the game, they displayed a wonderful game. They could defeat their rival with a tennis like score (6-0).
However, the team finished third in the pool after Bengal and Coorg.
Over all, it's a reasonable performance by the boys, who gained valuable experience in their 10-day long Bengaluru sojourn.
They are also happy that the arrangements were excellent, each individual's welfare taken care of.
The team thanked Hockey Bengaluru for all the work behind successful tournament.
Hockey India, in appreciation of the NGO's work and in order to promote Schools Hockey, gave affiliation to it so that their talents can directly play in the Hockey India National Championships. Since 2014, OTHL teams have been playing the Sub-Jr Nationals. We played at Baroda, Jammu, Imphal and now in Bengaluru. Hockey India's gesture benefits hundreds of out top talents who dream of playing in the national, and thus go all out in the selection trials.