Olympic Day celebrations at OTHL
23/06/2017
Every year, on 23 June, Olympic Day is celebrated all around the world to commemorate the birth of the modern Olympic Games on 23 June 1894: hundreds of thousands of people – young and old – participate in sports events, exhibitions, music and educational seminars. The goal is to promote participation in sport regardless of age, gender or athletic ability and to get as many people as possible active. Hockey being a truly a "Sport for All" game, played from junior to masters level, by families, people with impairments and from all walks of life. Therefore, Indian hockey under the ageis of Hockey India celebrated Olympic Day on a grand scale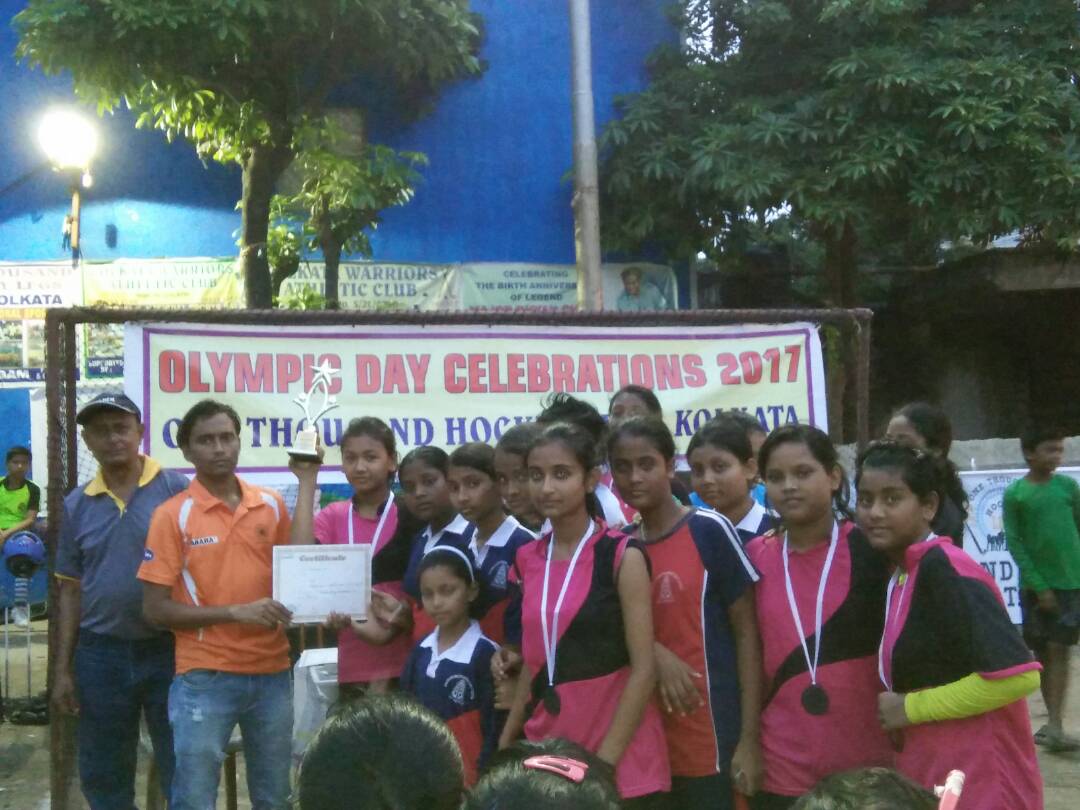 OTHL girls celebrated Olympic Day with Hockey 5s tournament
One Thousand Hockey Legs, the flagship project of Hocke Citizen Group, which is affiliated with mother Federation, Hockey India, took up the Olympic Day in spirit. Rightly so because OTHL involves young kids of age 10-15. They are as such new to sports and are not aware of various highlights of being a sportsman and what sports offers them. Olympic Day concept therefore presented volunteers of the NGO to educate the young kids on salient aspects of Olympic Movement.
OTHL organized separate events in both Delhi and Kolkata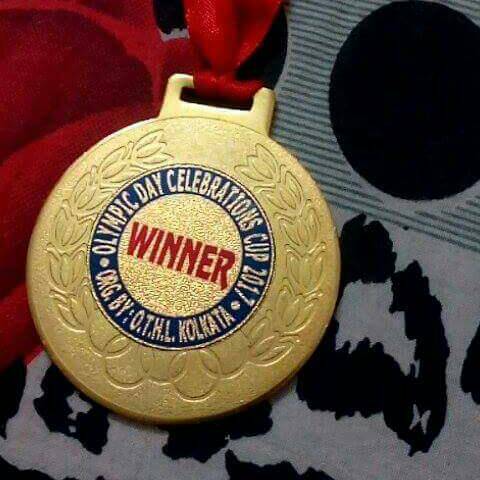 The medals the girls got for winning Hocke 5s
Kolkata chapter of One Thousand Hockey Legs celebrated the Olympic Day 2017 today at the Kolkata Warriors' Club ground with much fanfare and enthusiasm on 21st June.
Despite incessant rains, six schools girls teams played out a round robin Hockey 5s tournament. The matches started in the morning and continued till the sunset. After each team played the other, top four teams were identified for the semis. Joseph Day School girls won the Olympic Day 2017 Hockey 5s Kolkata Cup, beating Belkulai Vidyapet girls in a tough encounter. The winner school struck through lasses Rajsree and Hritika Shah (2-0).
An awareness session on various aspects of hockey, including the ongoing Hockey World League Semifinals in London was also held. National umpire and event-organizer Imran Azan briefed the girls in the session.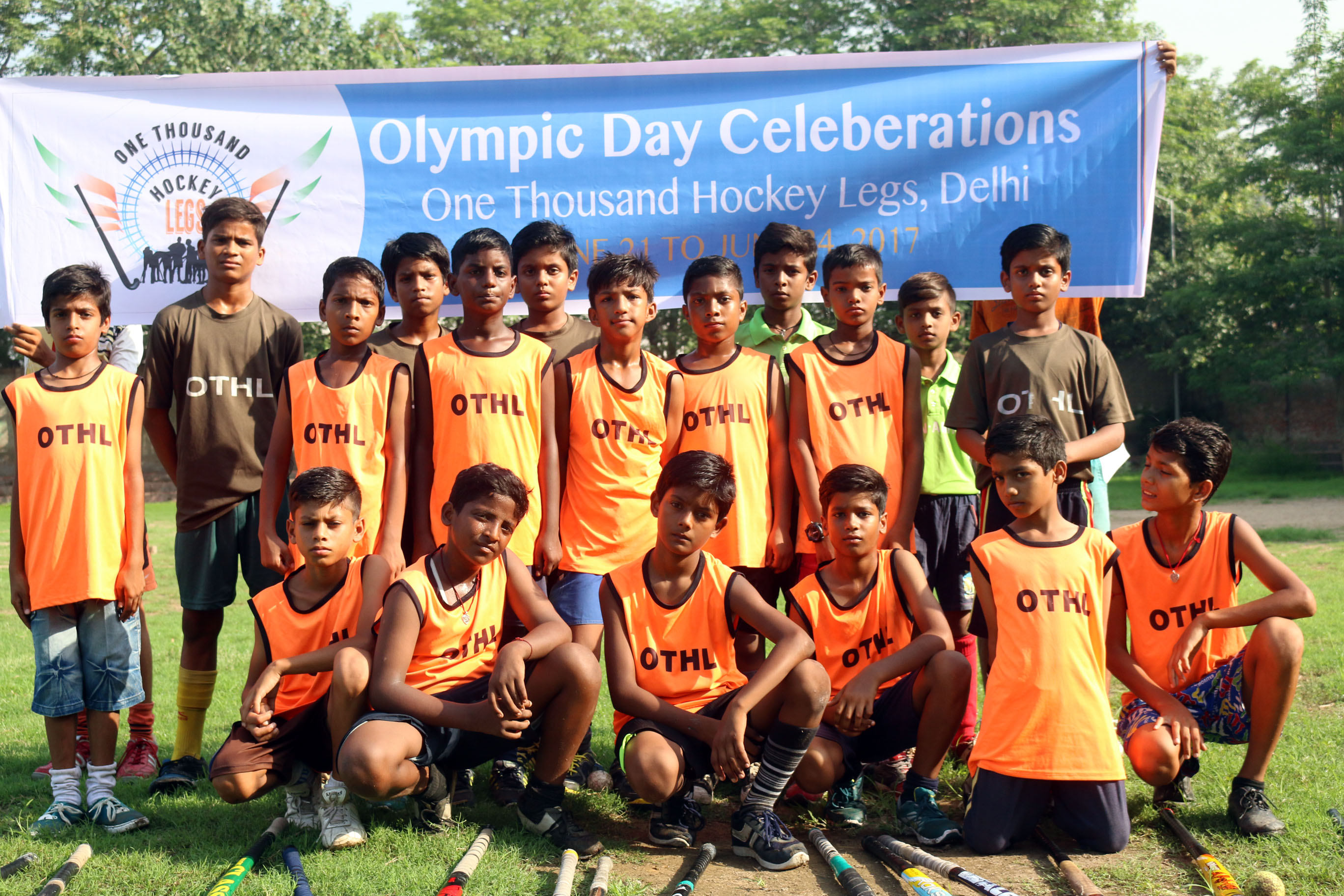 Under 15 boys
Delhi chapter of OTHL Organized two tournament. Sub-Junior boys played a six - a - side tournament, while two Junior teams and a Sub-Junior team played a full strength full time match. Those who took part in the Bengaluru Sub-Junior Nationals first played agaisnt the team that went Ananthapur for taking part in the Fr Federrer Cup a fortnight ago. The Anantapur-bound team defeated Bengaluru team 3-0. The second match was played between two Camps. As everybody knows its summer time in Delhi. Training camps were held in different places. Out of these, two teams, one camp from Anglo-Arabic school run under the coaching of Somesh Chhikara and the other run under the supervision of Pramod Bata in Yamuna Sports Complex, played a friendly. This ended quickly due to rains and the ground unplayable because of that.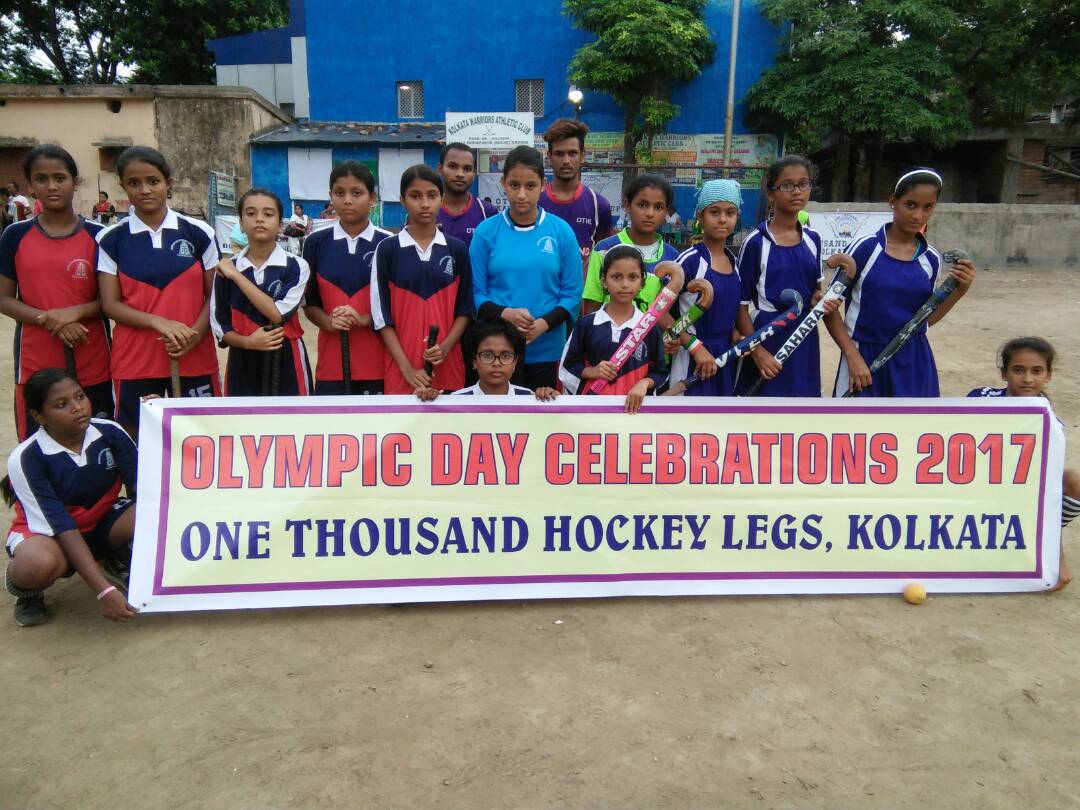 Kolkata girls are excellent in hockey spirit