Two OTHL teams take part in Chandigarh tournament
13/09/2017
Sunil Vohra Memorcial Cup is an important hockey calendar activity in the Union Territory of Chandigarh, which is capital for prosperous Punjab and Haryana. The event is for school team and for Under-14 boys. Like last year, OTHL entered its Delhi team. In addition, OTHL's Kolkata also made their maiden entry. Its nice of the organizers that they accepted two teams from our increasingly acceptable NGO.
Its for the first time in almost 9 years of the OTHL that it could field two teams from two different cities in an all India tournament. This has happened in Chandigarh.
Its a matter of satisfaction that our teams passed the mandatory medical tests to adhre to age stipulation. Since many teams are rejected, the qualification in itself is a well augury. Delhi team played two matches and lost, and thus could not qualify for the knock-out tournament.
OTHL Kolkata team with manager Imran Azad
Similarly, playing a major tournament for the first time, Kolkata OTHL team too lost both matches and thus met the same fate as that of their Delhi counter parts. But it has to be appreciated that the yound kids travelled almost 1800 kms one way by train to have this 2-match experience. Its also worthwhile to mention that forming combined team and taking permission from both parents and respective schools, and then ensuring their comforts during journey and safety are huge tasks which our coaches (Imran Azad for Kolkata and Gurpreet Singh for Delhi) and managers carried out in majestic and mature way.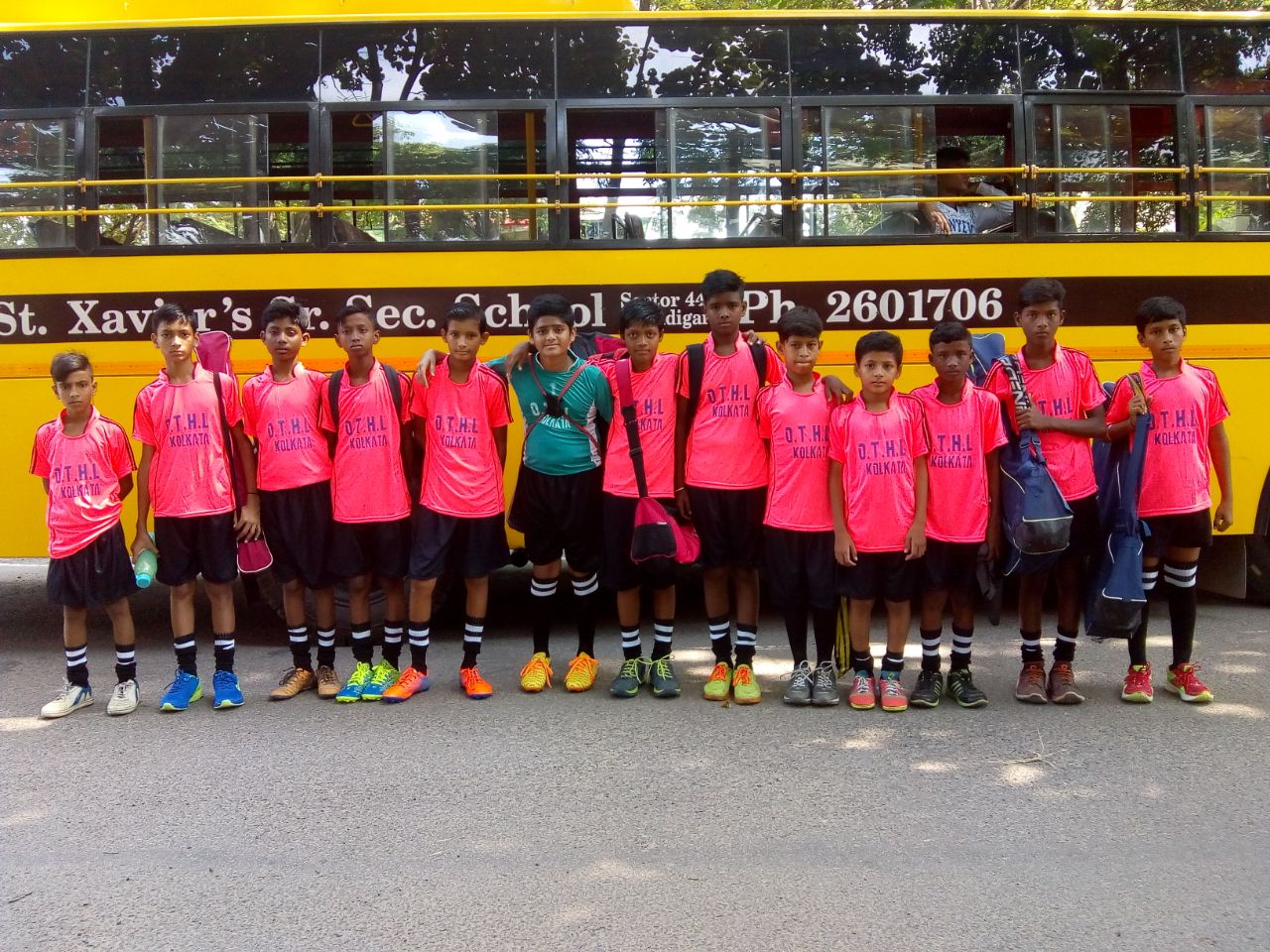 Ready for the task with all enthusiasm
"yes there are issues, and difficult tasks, but the joy of taking the boys on tour is immense. These kids train almost all round the year, but dont get good tournament opportunities to show their fighting spirit. Therefore difficulties melt away" conceded Imran Azad, who shouldered single-handely the Chandighar challenge for the Kolkata team.
Concurs Gurpreet Singh, the Delhi team manager: "I was given full hand to select the team, train and motivate. There was little time for training due to frequent raining in Delhi and our earthern grounds became unplayable. However, am happy the boys got first hand what it takes to play top notch tournament. Yes we lost badly but the other sides were from well known academies where they get trainning round the year unless our's week-end training that too on school grounds which are earther and sloppy"
DELHI OTHL TEAM: Adil, Himanshu (gk), Mohd Arbaz, Sachin, Rahul, Mohd. Sohail, Ankush Kumar, Anshuman Jha, Ronak Paswah, Adithya, Vikas, Gagan, Ritik Mawari, Gyan, Sumit
KOLKATA OTHL TEAM: Md. Fahad, Sandei Shaw, Ansh Prasad, Rohit Thakur, Saurav Hela, Roshan Atik, Ayush Prasad, Vivek Singh, Subhojit Porel, Akash Rajbanshi, Rohit Shaw, Sammi Haque, SK Samad.