Exciting social visit of National Hockey Academy UK
25/10/2018
It was an much awaited occasion, which was in pipeline for over a six months. When it did occur, joy flowed everwhere. England's Coventray based hockey team of young and very young visited Jalandhar, a city known for producing hockey stars, sportsfields and sports equipment manufacturing, this week. As a special gesture, the NHA's think thanks have invited Delhi base NGO, One Thousand Hockey Legs' Under-15 team for both socializing and competition. This was one invitation the OTHL cannot refuse. For, such occasions were what it wanted to get its kids, who are mostly from the bottom most strata of the society, in order to give them a forum for another culture, an environ for mingling minds, open up communicaiton, engage in their pastime of hockey sport and etc.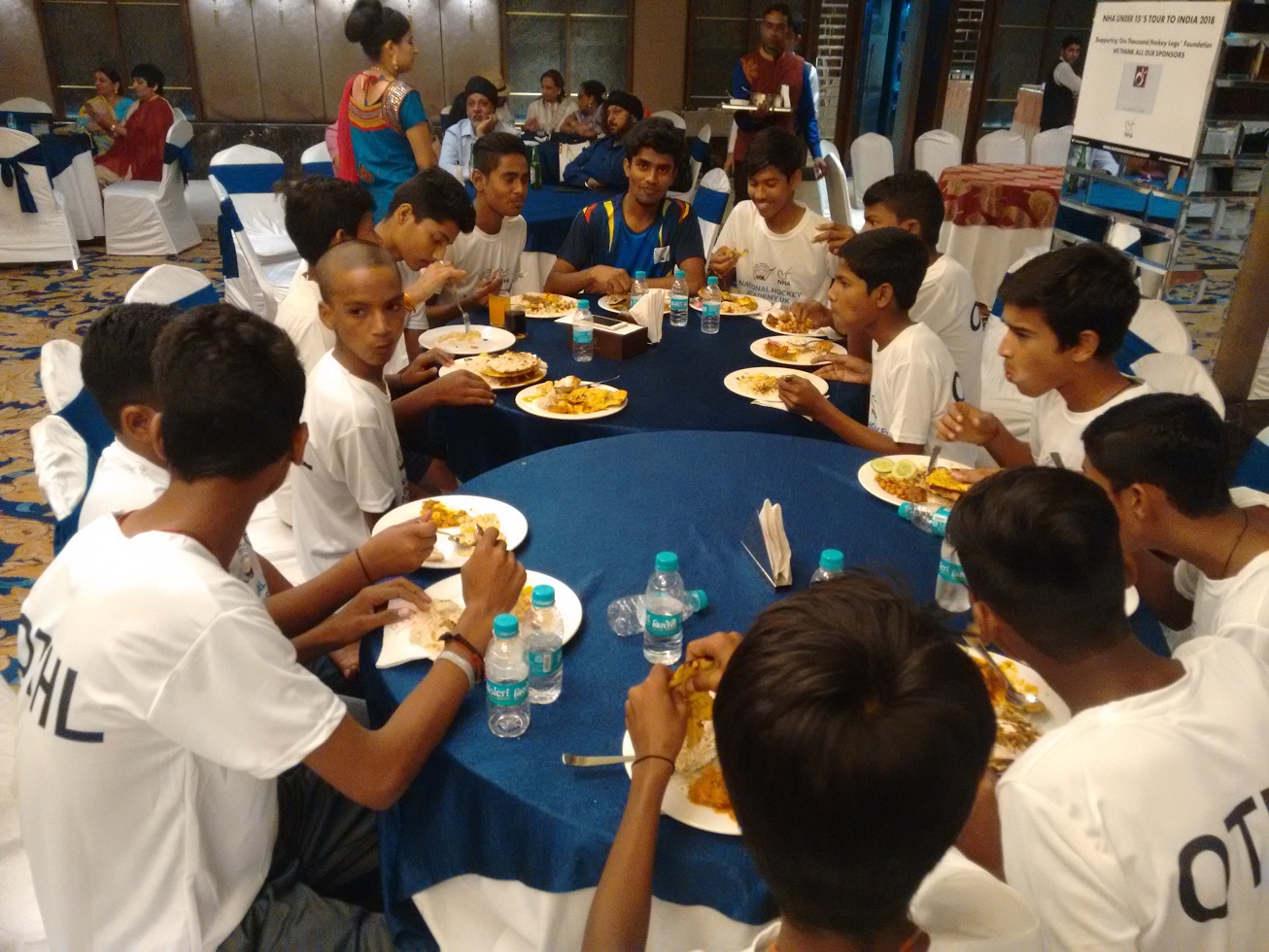 Boys relishing dinner at Ramada hotel courtesy NHA UK
Upon receiving the invitiation and also the NHA's generous offer to sponsor the trip, OTHL short-listed about 40 boys who are slightly better in terms of communication and English knowledge, for the trip. The team consisted of 10-15 year boys. Former OTHL star player Pervez Alam was given the task of managing the team that included Sachin, Ajay, Sohail, Vikas, Parveen, Aman, Suraj, Anwar, Pardeep, Himanshu, Ritik, Vishal etc. The boys were eager, and followed all the practice sessions and language lessons scrupulously.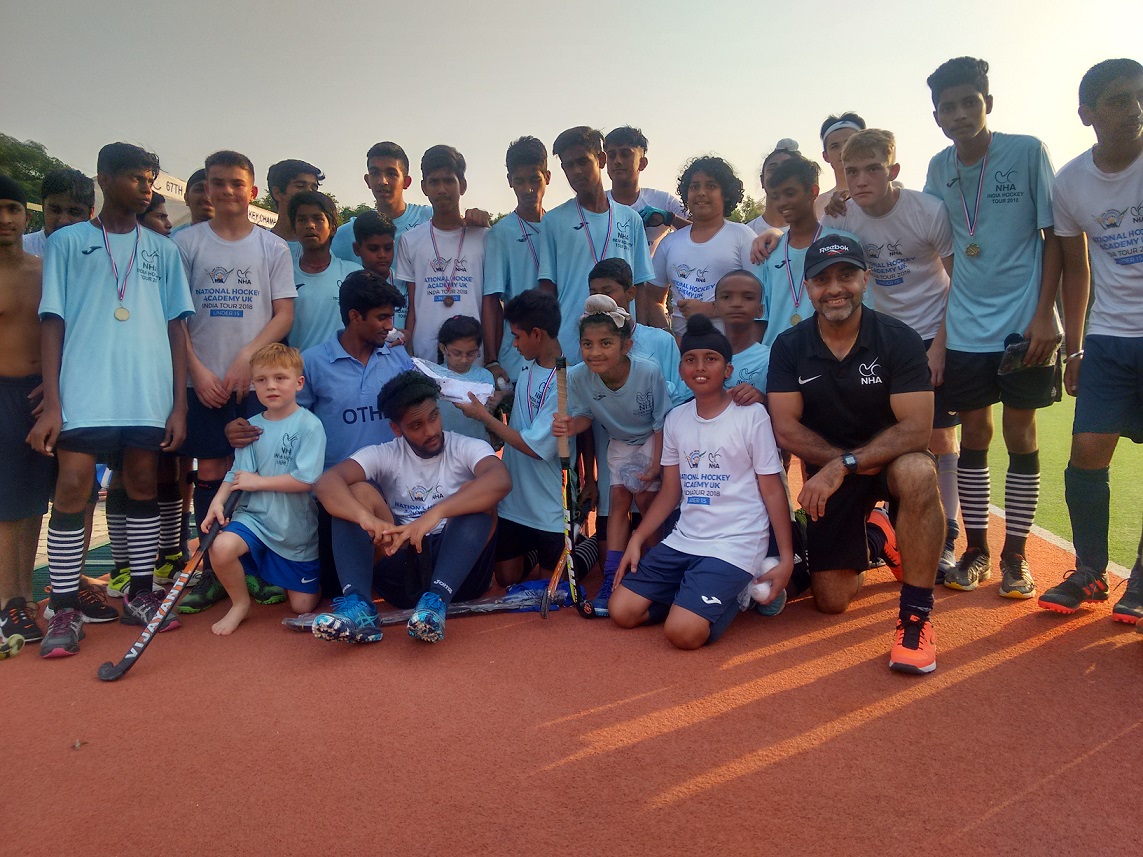 After both teams exchange their jerseys
The first interaction for the boys, who were put up in decent accomodation, is a gala dinner. They had a great time Also on the table were an Academy team from Singrur, Punjab and Sind Bank etc. Olympians Rajinder Singh Jr, Baljeet Singh Saini, who is currently the coach of Junior Women's team, Sanjeev Kumar Dang, former forward of repute. There were also hockey equipment manufacturers, tournament organizers, Academy teams etc, giving a glimpse of vast heritage of Jalandhar hockey. At the end of the night, boys joined together for dance and fun, moments the boys and the families enjoyed to no end. Videos were taken, photos snapped, selfies surfaced. Joy was one that was overflowing in everybody's heart and minds.
Ms Sanj, wife of brain behind the event Ricky Saund, compered beatifully an event in which various contributors to the cause of social welfare, an NGO that is devloted to eradication of blindness and OTHL were honoured.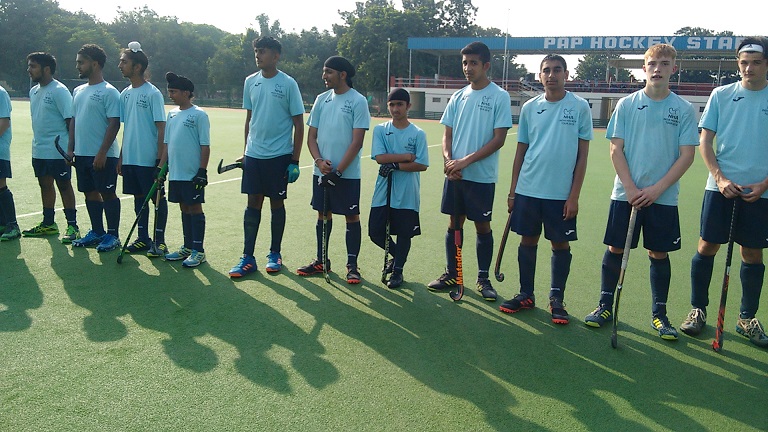 The team that won the final match 4-0
The highlight of the entire visit is the NHA's effort to help OTHL. They brought usuable pairs of shoes, numbering around 100, sports wears etc. Its an amazing job to collect those items, bringing it to the city and present them to OTHL Fouder K Arumugam, who was present there. He thanked them for their role in seeing Indian society improve including its vast underprivileged section. "Your material help and eagerness to associate with OTHL motivate us to do more for our marginalized kids", he said. the NHA and its core supporters presented a purse as well.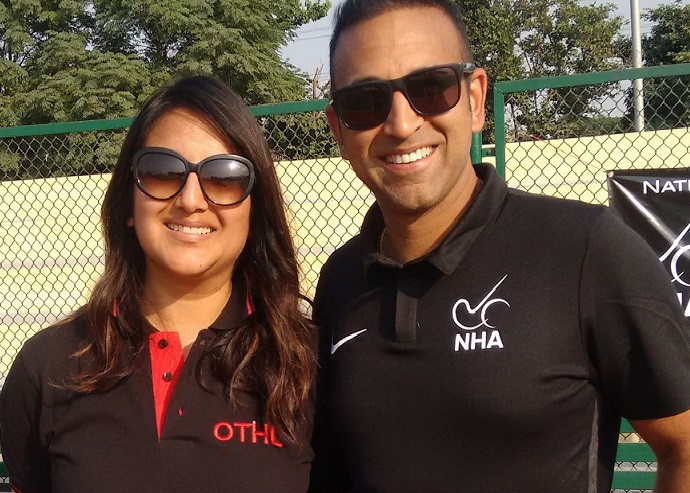 Hail OTHL - NHA friendship
In the evening, as the Sun set to settle down, the much awaited match between the visitors and One Thousand Hockey Legs Xi was staged. Here, the NHA team dished out an excellent game to post 4-0 win over the OTHL. The visiting team was superior on all fronts of the game. With their parents motivating them from sidelines, the team played to its potential, and gladdened the hearts of everyone. Sign brothers and Saund brothers shone much like many motivated kids. Sachin, centre-forward of OTHL caught the eyes with his skilful game.
OTHL XI TEAM
Sachin, Pardeep, Parveen, Vikas, Md Sahil, Suraj Rawat, Himanshu, Vishal, Ritik Senger, Danish, Md Shoaib, Anwar Hussein, Aman Kumar Jha. Manager: Parvez Alam