10th Anniversary of OTHL
28/12/2018
28th December of 2018 marks tenth anniversary of globally acclaimed One Thousand Hockey Legs. Exactly on this day ten years ago, the not-for-profit organization was registered with NCR of Delhi. Government Boys School Saket, Government Boys school, Begumpur and Hansraj Public School, Ashok Vihar were the first educational institutions that had been taken into the OTHL fold in Delhi. OTHL was first started in Puducherry, and spread to Kanpur in Uttar Pradesh, Kolkata in West Bengal. Two years later, the Delhi chpater, which is now the flagship region for OTHL, was put on board.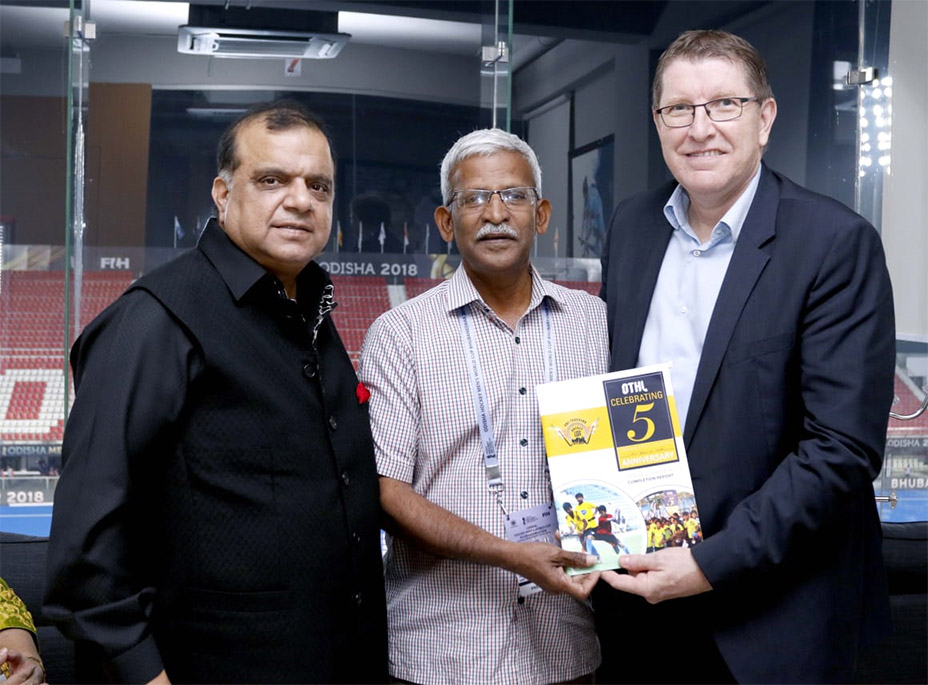 OTHL pamphlet being presented to FIH CEO Thierry Weil in the presence of FIH president Dr. ND Batra
We are humbled to inform that the term OTHL is a name to conjure up in the hockey world. As recent as last month, the Hockey Foundation chief of the Federation Internatinale Hockey (FIH), which admisters and develops the sport in the world, met the OTHL Founder K Arumugam in Bhubaneswar and discussed about the project. The founder also had another opportunity during the FIH Press Confernece to discuss further about the project and its nuances. A couple of years ago, the FIH published our works under FIH's Global Projects, which is a good recognition of our work by the apex body.
Befitting the occasion, a 15-day congregation of OTHL family is being undertaken in Delhi. The celebrations had started on Friday, the 28th Dec at DDA Srifort Sports Complex. Our voluntters Nirmal Jeet Singh and Sharma were present besides David Eskes and his son Matz from Netherlands. The Davids are well known visitors to our OTHL having visited last year too. They also take painst to collect sporting equipment for disbursement to our kids. Their presence was therefore all the more befitting. Matz, known as goalieMatz as he is a goalkeeper in his Club, enjoys practicing with OTHL goalkeepers.