Many OTHL boys in the Govt's flagship Khelo India teams
17/01/2019
Government of India has launched a big movement to make sporting culture in the country with many verticals. One of them is to introduce a new Event called Khelo India Youth Games (KIYG). There are 17 disciplines that come under KYIG this year. Hockey being the national game of India nad had always been given priority. Last year, the inaugual event, hockey event was held in Dhyan Chand National Stadium, New Delhi. Only age group for hockey team was Under-17. This year, the Govt has added Under-21 too.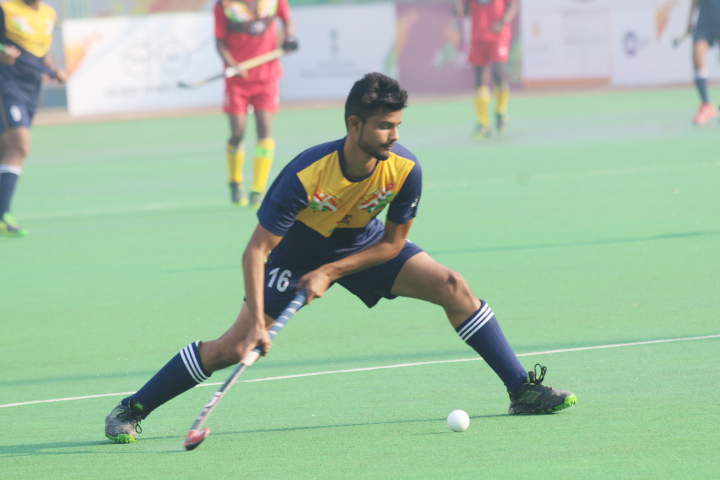 Defender Zainul Samar playing for Delhi in U-17 category
Delhi chapter of SGFI was given the task of sending Under-17 team after the team reached the semifinals of SGFI Juior Nationals held in Ranchi. Four of our boys - Abhinandan, Sanjay Soni, Deepanshu Kumar, Zainaul Samer -- were part of the team that gave Delhi its qualification for U-17 team for the second Khelo India Youth Games. two of them got selected again for the U-17 team that played well at Mahindra Stadium, Churchgate, Mumbai. The players were given excellent creature comforts, travels and playing kit.
Khelo India match under progress
Like Deepansu Kumar in the U-17 category, his STC SAI compatriot and Saket School product Zaseem Md was selected for U-19 category. His peers Brajgopal, Abhishek Rana, Sunil Kumar, Sanjay Soni were others in the same team. Its a proud moment that so many of our OTHL players got selected for the prestigious tournament.
The complete list of OTHL boys in Khelo India teams
Abhishek Rana, Collge student, (presently in Jamia Milia), OTHL product from GBSSS Begumpur.
Brajgopal, Collge student, (presently in Jamia Milia), OTHL product from GBSSS Begumpur
Deepanshu Kumar, goalkeeper, 10th class student, OTHL from GBSSS Khanpur.
Sanjay Soni, 10th class student, OTHL from YA SBV, Dr. Ambedkar Nagar
Zainul Samar, 11th class student, OTHL from YA SBV, Dr. Ambedkar Nagar
Sunil Kumar, formerly with National Hockey Academy, OTHL from GBSS Saket
Md. Zaseem, goalkeeper, OTHL from GBSS Saket, formerly STC, Patiala