OTHL envisage and envision Weekend Saturday Series
22/05/2019
This is a new vision, which is being implemented with a missionary zeal nowdays. One Thousand Hockey Legs (OTHL) has long been longing to provide a platform for its up and coming players to show case their skills on a firm footing to keep them engaged and focussed. The OTHL has recently come up with a year-long activity that will see action on every week end. Simply, an engaging Series will be held every Saturday, and it will go on for at least ten months.
The idea is to keep the created talents battle worthy round the year. Five teams, two of them from the OTHL stable, are in the Series. Every Saturday two matches will be held. Five Saturdays therefore will mark one ROUND. The OTHL proposal was readily agreed by the Delhi Hockey, the State Unit. While the OTHL will provide playfield, pay officials and market. The Delhi Hockey will take care of technical conduct and oversight. Named Delhi Hockey -- OTHL Junior Series 2019, the much longed for Series has started on 13th April with a match between Citizen XI and OTHL XI, both are our NGO teams.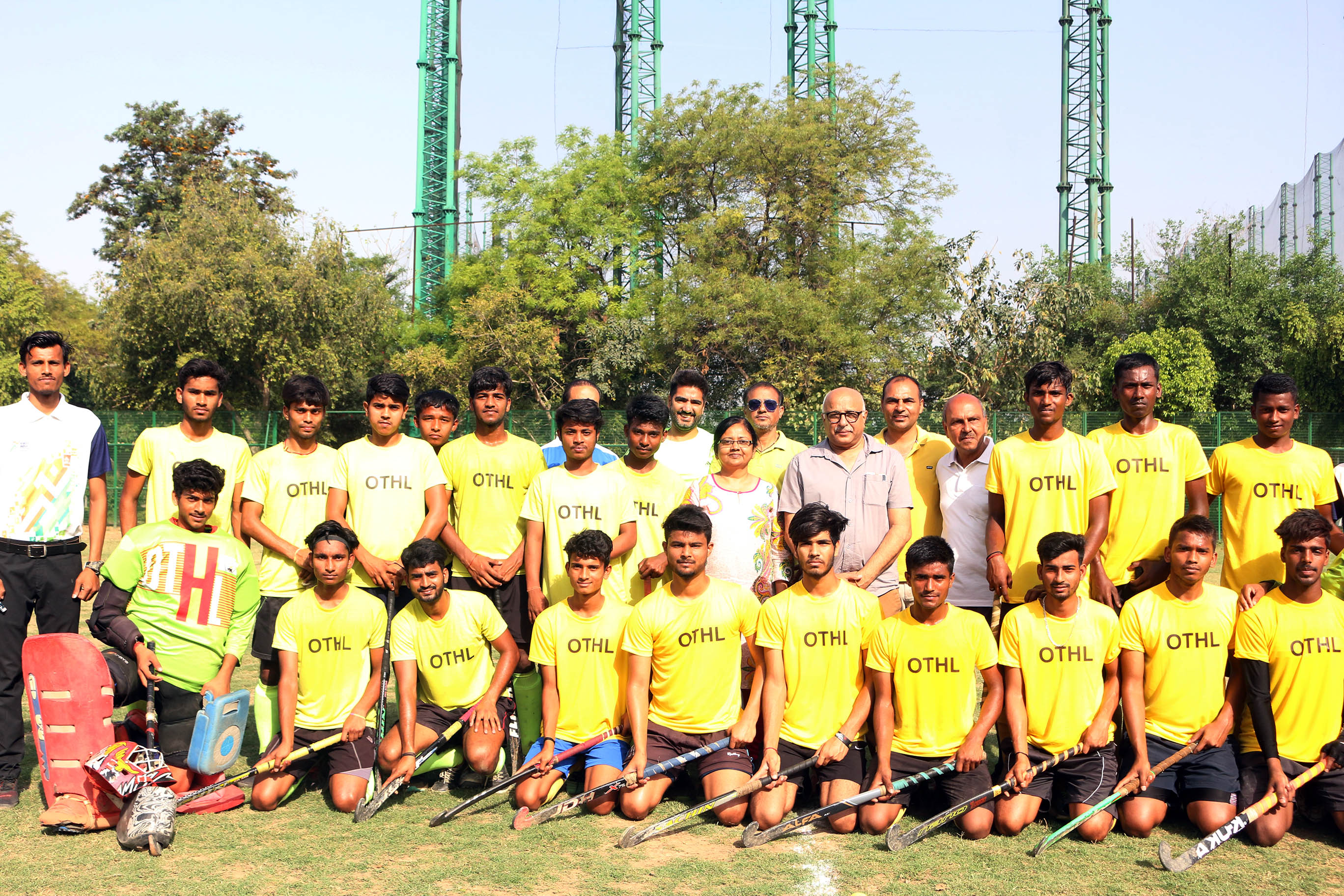 Match No.1: OTHL Vs Citizen
The FIVE teams in the fray are
1. One Thousand Hockey Legs (OTHL) XI
2. Citizen Hockey XI
3. Delhi Hockey XI
4. Delhi Rest
5. Faith Club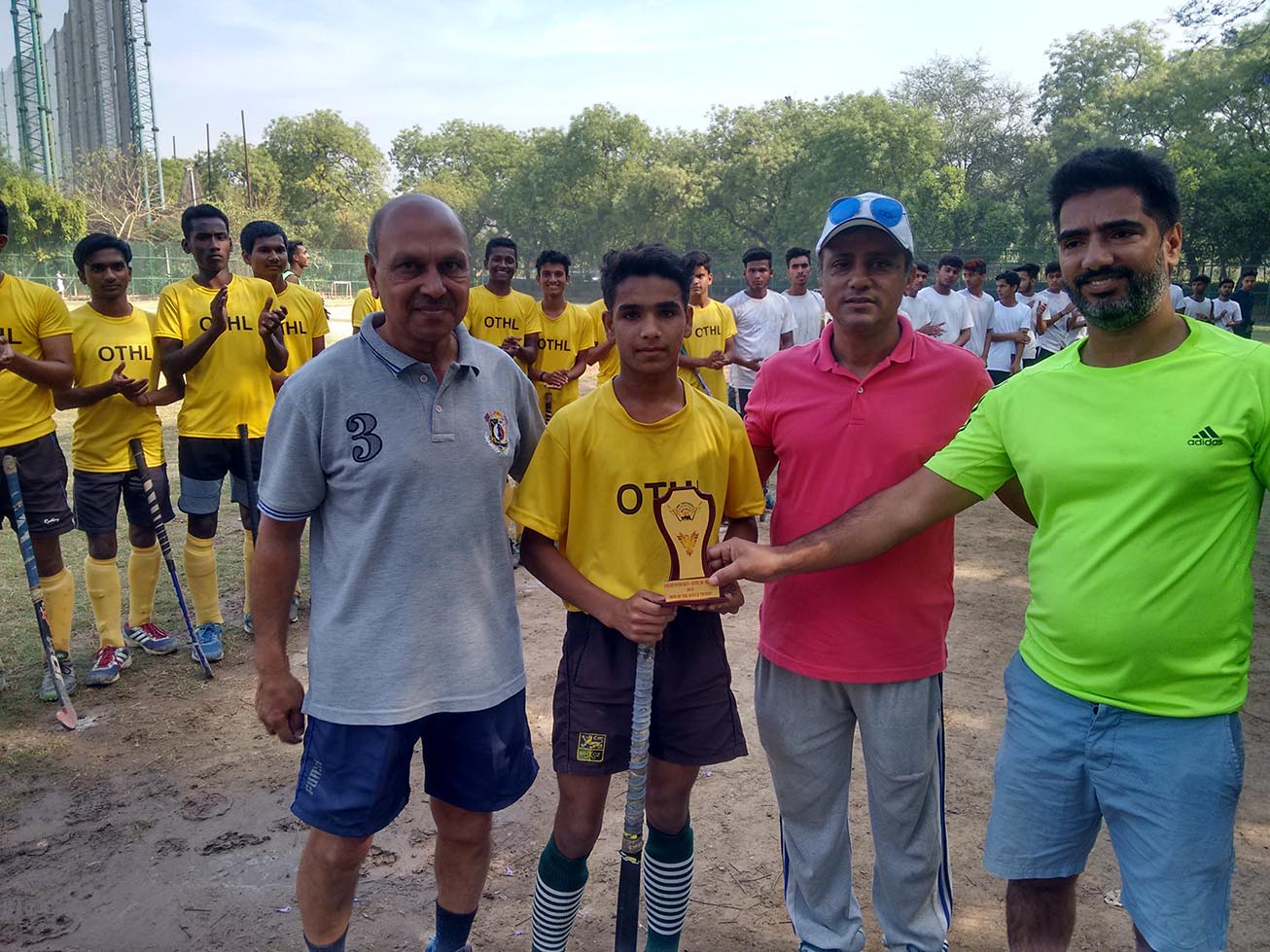 Best Player of each match is most awaited event
OBJECTIVE: The event is an effort in continuum to spot, nurture and assemble hockey talent in the Delhi State.
ELIGIBILITY: Players born on or after 01.01.2000 with Delhi Domicile. Each player will represent only one age-group Series in a year.
VENUE: The venue will often be commercial areas. Therefore, strict adherence to schedule to avail full playtime for which fee is paid, maintenance of decorum (as the Sports Complexes cater to multi-sports and age groups) are essential. Managers and captains of each team are accountable for any violation. OTHL will provide venue & logistics, pay umpires for the entire duration of the Series.
FIXTURE: It is proposed to have 10 rounds in 2019. Fixture of each round will be announced separately. Fixture should be followed in Delhi Hockey's Social Media or the OTHL's. Matches will not be re-scheduled if a team fails to turn up.
ENTRY LIST: Participating teams should submit a team list consisting of 30 players. No player outside the list will ever be permitted to take part. Team management may change five players after every three rounds if need be.
TEAM MANAGEMENT: Each team to a pool of 4 managers and 4 coaches. For each match day, Coach / Manager should be allotted by the respective team management from the above pool. The event will be managed by Shri Nirmal Jeet Singh (Convenor) Shri Anil Khantwal (Co-convenor). Their primary work entail making fixture, running the program, oversight of technical aspects, selecting Best Players & suggest future goals.
Delhi Hockey may invite its Selectors for witnessing matches.
Selector and WC player Arvind Chhabra interacting with the team
FIRST ROUND RESULTS
Citizen XI beat OTHL XI 2-1
Delhi XI beat Faith Club 2-1
OTHL XI beat Faith Club 2-1
Citizen XIbeat Delhi Rest 3-2
OTHL XI beat Delhi XI 2-1
Faith Clubdrew Delhi Rest 2-2
Citizen XIdrew Faith Club 1-1
Delhi XI beat Delhi Rest 4-0
OTHL XIbeat Delhi Rest 1-0
Citizen XI beat Delhi1-0
MAN OF THE MATCHES
Match No.1
Match No.1
Match No.1 Not decided
Match No.2 Not decided
Match No.3 Sachin (OTHL)
Match No.4 Abhinandan (Citizen)
Match No.5 Abdul Qadir (OTHL)
Match No.6 Neeraj Rana (DR)
Match No.7 Manmeet Singh (FC)
Match No.8 Nitesh (DH)
Match No.9 Kamal (DR)
Match No.10 Mohit (DH)
FIRST ROUND SUMMARY: Eight of the ten matches produced outright results. Except one match, rest all tense encounters the winners getting a slender solitary goal difference. With ten poionts (3 wins and a draw), Citizen Xi led by Mohit Maurya stood top in the points table, following by 9-point OTHL (3 wins). Delhi XI which posted highest number of goals, 7, came third. It is to be noted here that nearly TEN rounds wil be played in the coming days.