Five OTHL boys take a big leap
14/07/2019
There is a good news. Five of our talented boys have made a big leap in their hockey career. Md. Arbaz, Rahul Sharma, Aditya Kumar, Aniket and Ankhush have cleared tough selection trials for induction into top hockey facility. As a result, the fivesome have recently been selected for the Sports Authority of India's (SAI) Sports Training Centre (STC) in Eastern Uttar Pradesh.
These boys will now stay in the SAI's hostel. They will have free boarding and lodging for three years. The facility also has exclusive turf where they will also be trained. They can also continue their eduction while staying and playing. The selection is game changer for the boys' career for many reasons.
Talented midfielder Aniket Kumar
Foremost is the boys social and economical background. They hail from poor background and thatswhy they are put in Government schools where in most cases quality of education imparted is below mark. This also the reaso why OTHL focuses Government schools to give them alternative career option through the medium of sports. Two of the five boys are fatherless, thus have difficulty in having minimum creature comforts a child needs. Its left to the lone mothers to take care of them. They normally do menial jobs, and being illitrate further add up problems, are unable to guide their wards for quality education and finding jobs. Mostly, they are helpless to put their own wards into what can safely be described as 'child labour'. This is happening unknowingly and unintentionally. Now that these boys get boarding and loding facilities free of cost, they themselves rescue from poverty ridden lives they were undergoing so far.
Aniket helps his mother to run a roadside eatery (momos), and thus misses evening practice sessions often. Whereas mother of Md Arbaz has been in and out of hospital for a long time due to multiple health issues. We were even about to call him back midway from Bilaspur Nationals!
Its happily hockey that is changing their destiny for good. OTHL of course lead the way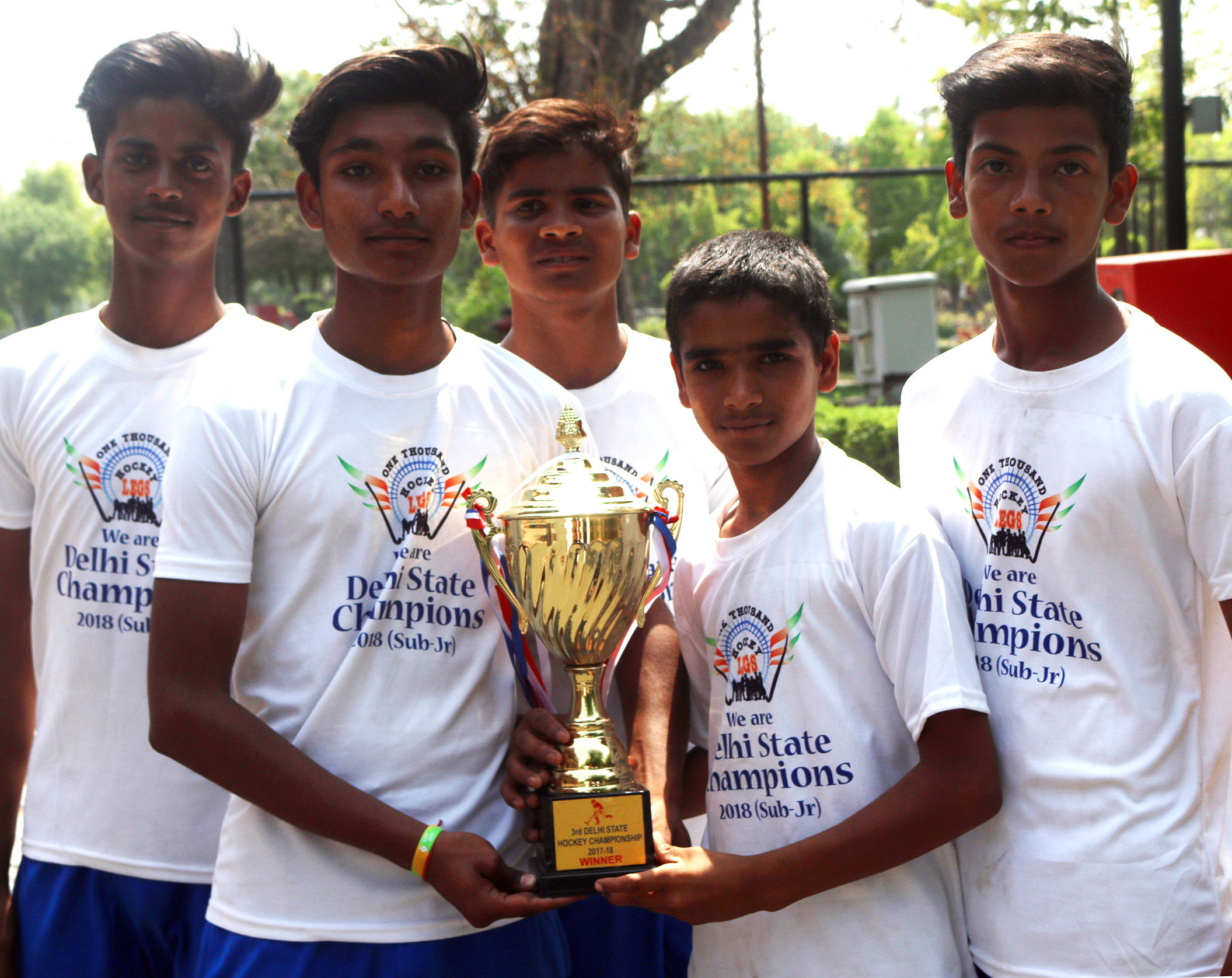 Winning Delhi State Championship was landmark achievement for these boys
One of the objectives of OTHL is to provide proper career option for the underprivileged section of Indian society. Hopefully, their induction for the STC (Sports Training Centre) marks a big leap. OTHL establishes contact with these STCs, train the boys for selection trails and guide them for their performance matching their true potential. This is most focussed area of activity for the OTHL.
Its not first time OTHL boys getting selected for STC. Three of our boys -- Kishore Arya, Md. Zaseem, Amit Gupta -- were the first batch to join the elite club. They were successful in their selection trials for STC opereated under National Institute of Sports, Patiala, Punjab.
Thereafter, two boys Zainul Samar and Pawan Jr also got selection.
These five boys recently played for OTHL in the 9th Hockey India Sub-Junior Nationals in Bilaspur (Chhatisgarh). While it was second straight appearance for both Aniket and Md Arbaz, for other three its maiden appearance.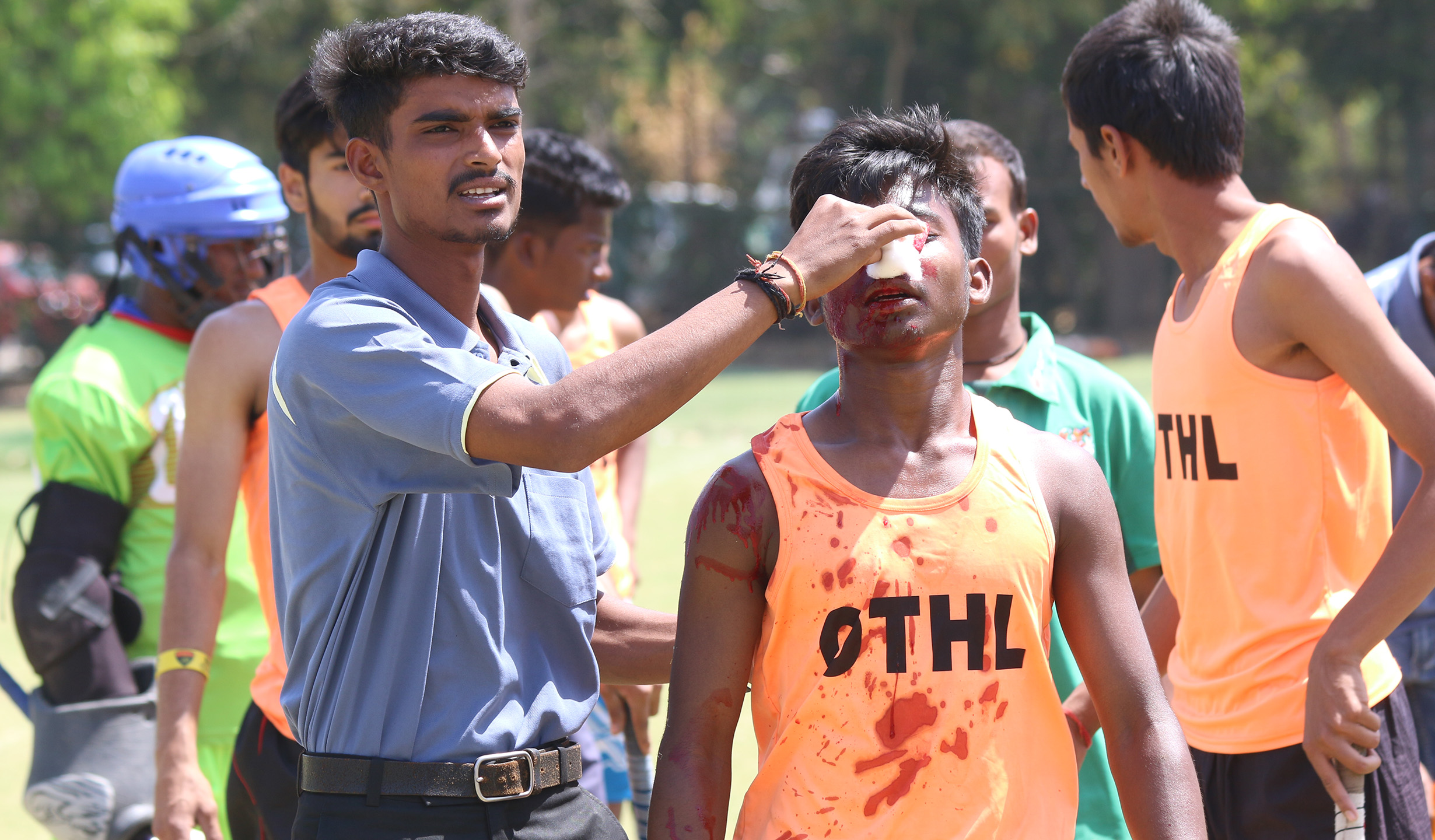 Livewire Aniket is is always target for rival teams. Picture shows what happens to him
All these five boys have represented OTHL in various leading tournaments like SNBP Cup in Pune, SN Vohra Cup in Chandigarh, All India Junior and Sub-Junior Nehru Cup in Delhi, KD Singh Cup in Lucknow and others.
Very interestingly, they were also part of the OTHL team that won the Delhi State Championship last year.
PROFILE: Aniket is a gifted midfielder. He was instrumental in OTHL winning State Championship last year. He was severely injured during the last phases of the prestigious event and was taken to All India Institute of Medical Sciences by this writer for treatment. He is stout, bundle of energy, covers ground and covers up weak player in the team. For his ability to improve his standard as per the demand, he was promoted to play in the ongoing Delhi Hockey -OTHL Series which is for U-21 boys.
Rahul Sharma is an all rounder. Though started his hockey career as a forward, coaches play him in the defence for the good use. He is one of the four players from his school team to win Gold at Inter-Zone competitions last year. He is student of Government Boys Senior Secondary School, Janakpuri in Delhi.
Md. Arbaz is Rahul Sharma's school mate. He is an excellent right winger. Known for his fighting spirit and mobility around ground, he is considered fulcurm around which teams revolve. He is like Aniket fatherless and was in desperate need for a game changer in his life which he got with this selection.
Ankush and Aditya are class mate, student of GBSSS, Khanpur in southern part of Delhi. The former is a defender while Aditya is a cool inside-forward.
OTHL congratulates the boys for the feat they achieved,