OTHL boys in top notch commerce college
30/07/2019
Big thumbs up for two OTHL boys -- Nakul and Ritik Singh. Hailing from same school, both have made everyone of us happy and proud. The duo from Govt Boys Senior Secondary School, Saket, which adopted our OTHL program as early as OTHL inception, got selected for a Delhi's prestigious educational institution.
Sri Ram College of Commerce, popularly known as SRCC, is undoubtedly the best address for any aspiring commerce student, and desired destination for parents for their wards. With excellent faculty and located in the South Campus of the Delhi University, admission for the college requires very high percentage of marks in the twelfth standard, even students having as high as 95% fail to get their name on the fresher's list.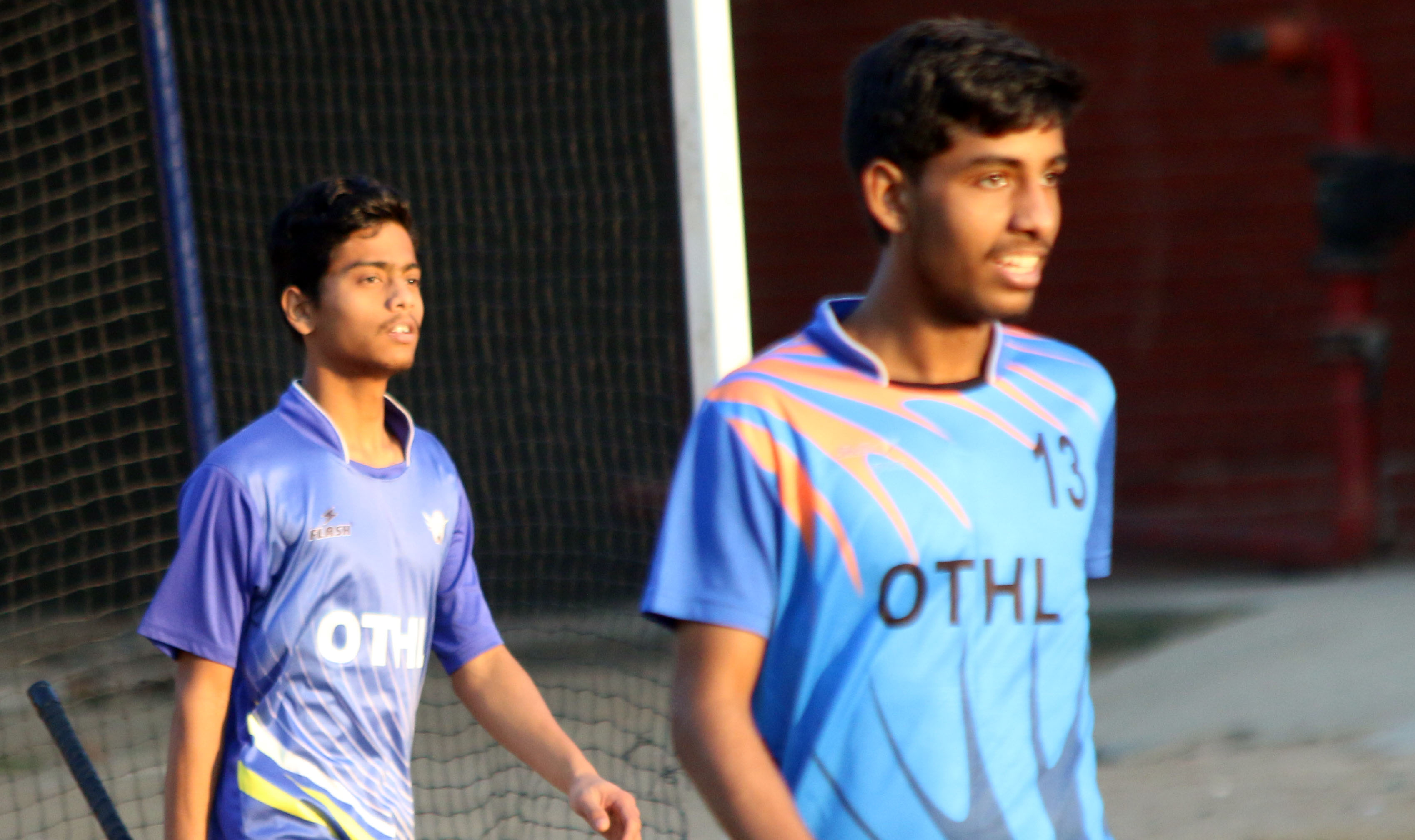 The duo in action in a recent tournament
Fortunately, and thankfully, the prestigious college of India has a tradition of field hockey. It has a hockey team among other sports, and takes 2,3 hockey players every year on sports quota. The condition is the hockey players, who come for common selection trials, should have commerce with mathematics as their subjects in the twelfth standard.
Nakul, son of a small time photographer, and Ritik Singh, son of a driver to a merchant, did well in their academics despite being in government school. Having taken academically taxing subjects, one of them even failed in the eleventh standard but somehow continued with determination.
Ritik took his setback in his stride, and focussed more on studies to pass out this year. Nakul on the other hand has been studious and progressed steadily.
Ritik and Nakul are not only good students from academic perspectives but also good players besides being very cultured and mild mannered.
Nakul had some health problems two years ago when he was among the 32 probables for the Imphal Sub-Junior Nationals. He was even admitted into a hospital for long time. He could have easily been dropped for the ultimate team, even the coaches who are more interested in team's winning, indicated accordingly. OTHL on the other hand, considering his commitment and knowing well that National Ceritificate will land him in good college, selected him. He was given exemption from Camp. Thankfully, combined team of his Education Zone twice entered the Delhi Govt.'s prestigious Inter-Zone competition. These certifiates helped both get good marks in the University selection trials held at the Padamshree Shyam Lal College, recently.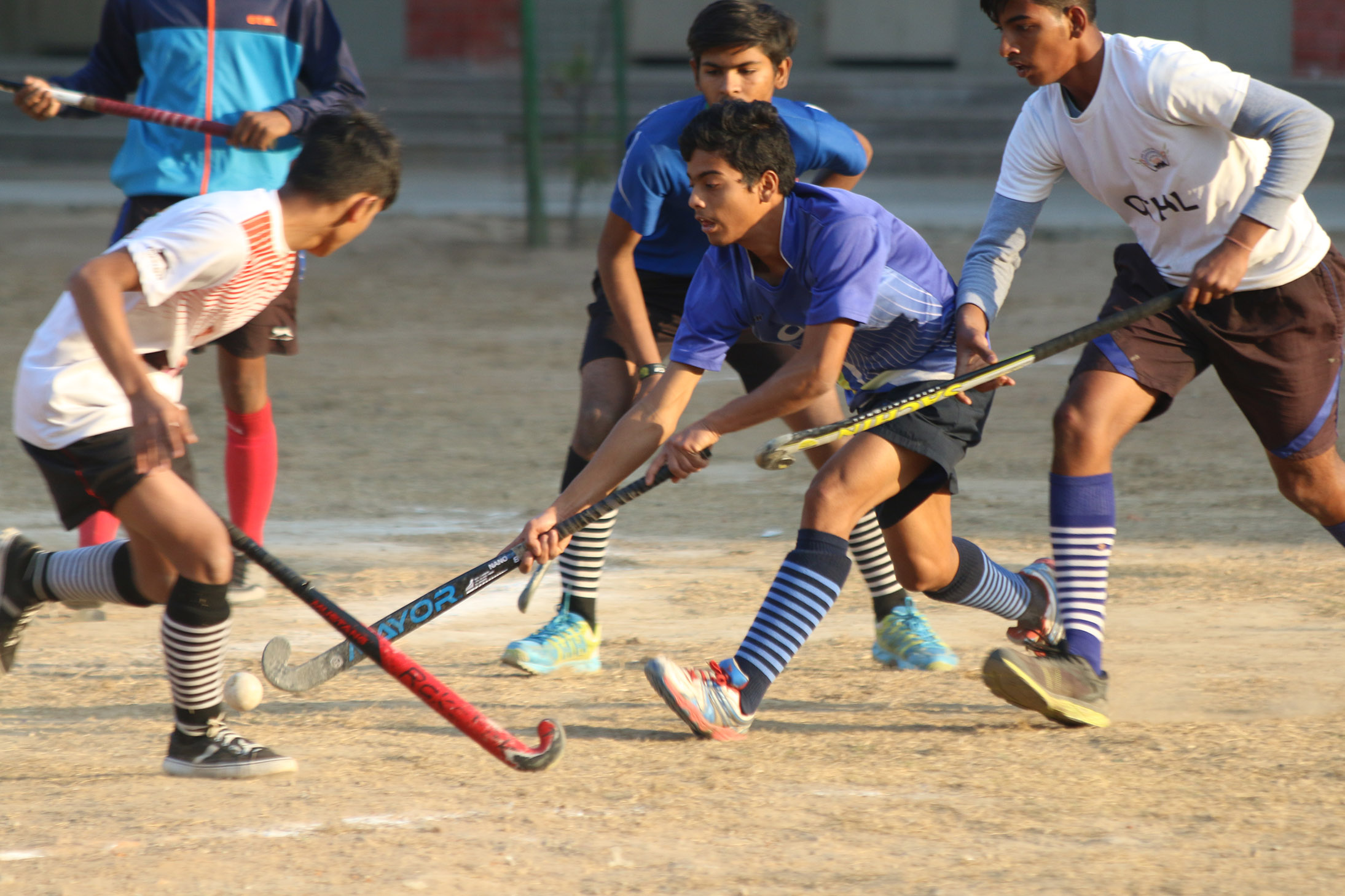 Ritik also mentors his school's Sub-Jr team every year
Ritik Singh being a good inside forward, got selected for both overseas tours that OTHL undertook in the last two years. He did well in Gulf Fiesta, Muscat (Oman) and BKSP Cup, Dhaka (Bangladesh).
Highlight of Nakul's hockey career is his twin strikes in the First Nehru - Dhyan Chand Cup against strong Subhas Nagar team in the finals. This gave his school, and also OTHL, a title.
Though started as a forward, Nakul is nowadays evolved as a good defender. Ritik Singh is sticking to his inside-forward position.
OTHL's avowed policy is Education First, Hockey Next. These two boys stand testimony to our cherished objective.
OTHL count in the prestigious college is now THREE, as Gulshan Prasad broke new ground last year there.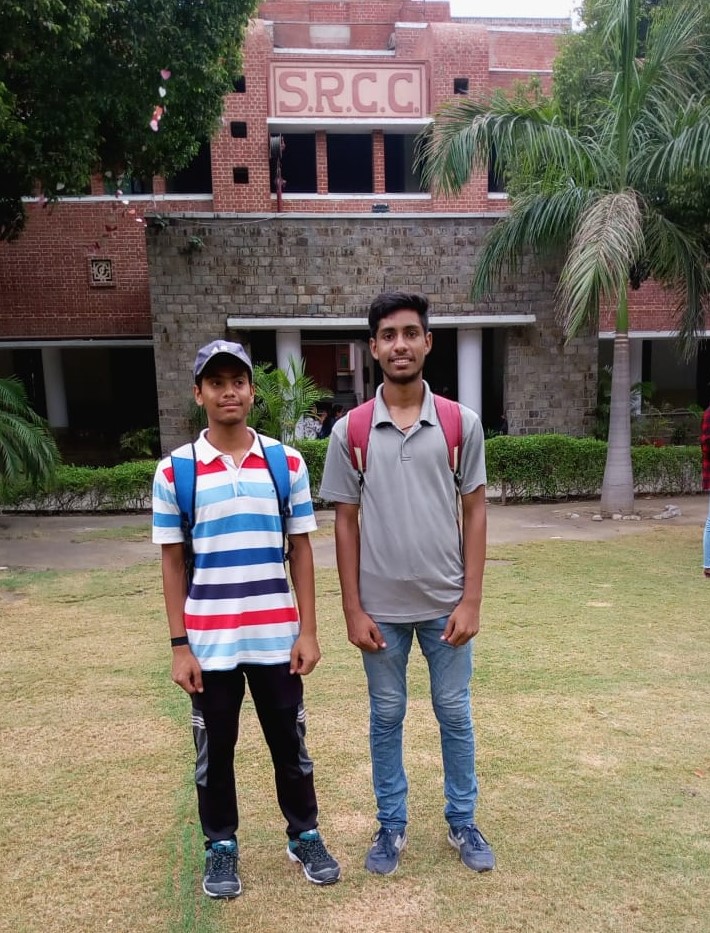 Ritik Singh (left) Nakul are now playing in the Citizen XI team in the Delhi Hockey OTHL Jr Series
ABOUT SRCC: Shri Ram College of Commerce is India's Rank 1 Commerce college affiliated to the University of Delhi granting undergraduate and postgraduate degrees. Founded in 1926 in New Delhi, it is one of the most prestigious and oldest institutes of higher learning in Commerce and Economics. The cutoffs required to gain admission in this premier institute are often much higher than other colleges affiliated with University of Delhi. As a result, SRCC enjoys an elite status as the most sought after commerce college in India and has established a reputation for attracting some of the brightest students in the country.