VOLUNTEER VOICE: Surjo sticks to hockey, salutes OTHL
23/10/2020
You would have expected Surjo Dutt to take guard at the crease, given that he attended Sardar Patel Vidyalaya, Delhi, a nursery for cricketers, many of whom have gone on to bring honour to the country.
Or perhaps control the ball on the football pitch, considering his Bengali roots.
But closest to Dutt's heart when it comes to sport is hockey and no surprise then that he wasted no time to become part of the effort of One Thousand Hockey Legs (OTHL) the moment he heard of the NGO's noble pursuits via the national sport.
"A few years ago I looked for some sports charity I could do. After all, sports has been a part and parcel of my life and I wanted to contribute," says Dutt. "I did some research and discovered OTHL " he revealed.
Dutt wasted no time in getting in touch with the founder of the NGO and was pleased with its founder's warm welcome to engage him in activity. "He so kindly also invited me for OTHL's foundation day which I attended along with my mother," Dutt recalls.
"It was a most amazing interaction we had during which she presented 100 sticks to pupils at the NGO," Dutt reveals.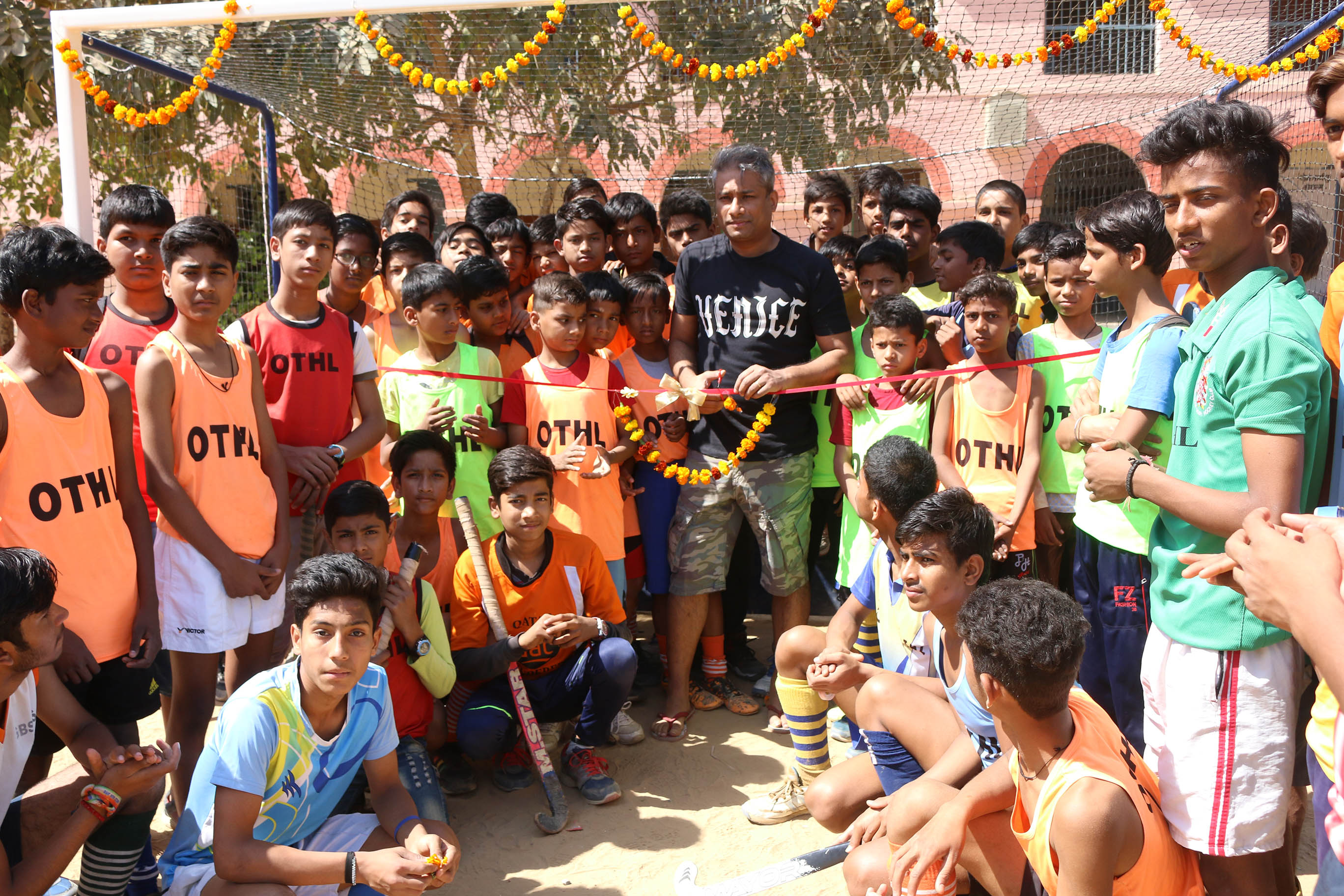 Sujo inaugurating our new equipment, an incidental happening
"The most amazing thing about OTHL is the upliftment of young players who largely come from challenging circumstances," Dutt says.
"Even greater than giving them hockey coaching is the fact that OTHL grooms them to develop their skills for employment. "It's as much as social upliftment as sporting development," Dutt says in awe of the project.
"OTHL is carrying out multi-tasks. Its commitment is exemplary. Its volunteers selflessness inspiring," he adds.
He laments the fact, though, that OTHL battles the odds with little support and makes a clarion call for better response for such an altruistic effort.
"OTHL founder has the know-how and contacts but needs financial assistance and contribution in terms of equipment," the 43-year-old Dutt observes.
It's plain to see Dutt's heart beats for hockey. Having been coached by the legendary Kishan Lal Sethi after taking to the game in Class V, Dutt went on to captain his school team.
A sturdy full-back with a penchant to hit penalty corners hard, Dutt grew up with stories of the Beighton Cup and the exploits of Leslie Claudius, India Olympic hero, related by his father, the Late A.K. Dutt.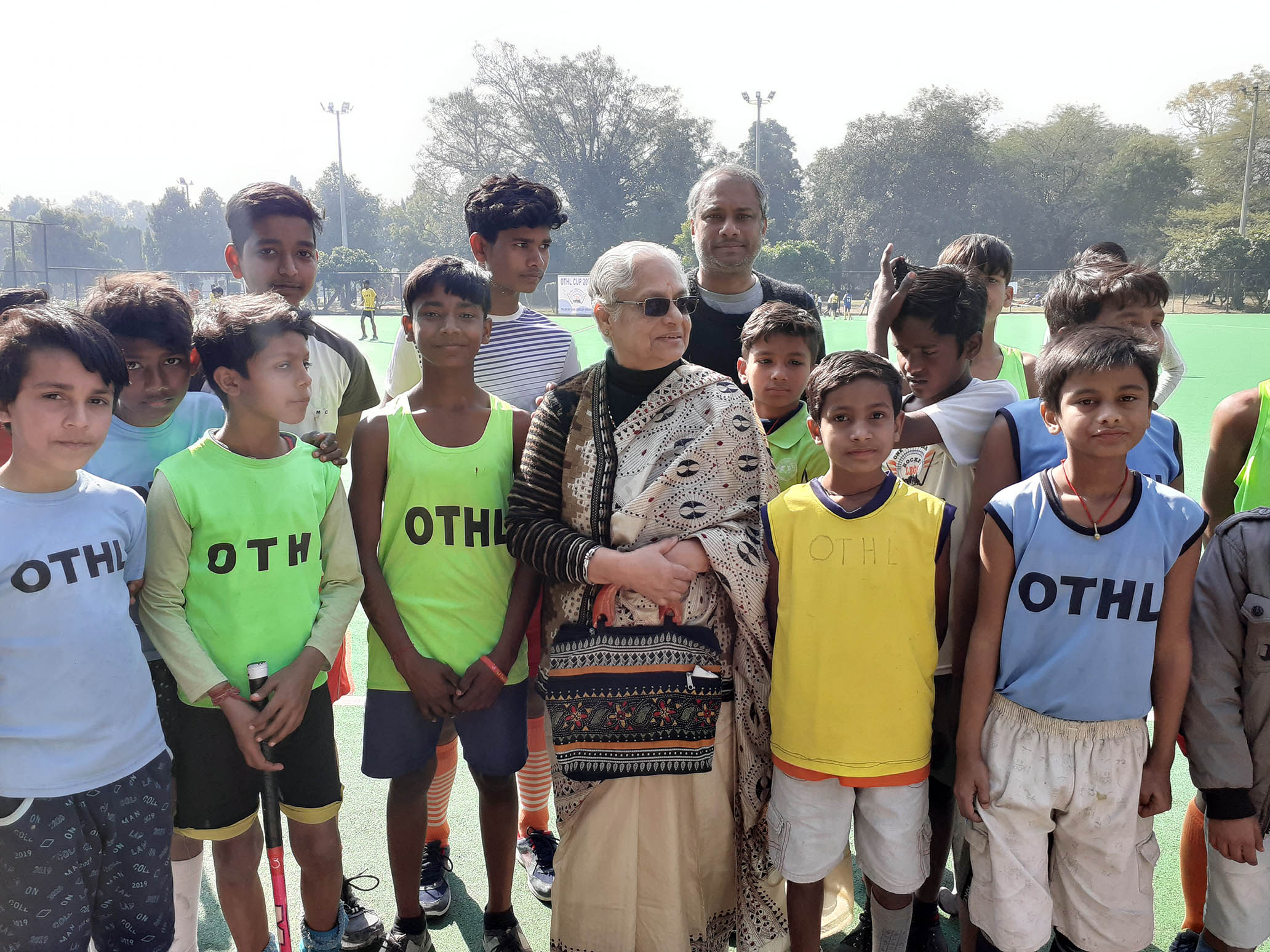 Surjo's mother, a teacher, interacting with OTHL kids
His mother Jayanti has been encouraging, not just when it came to playing the sport but also in Dutt's endeavour to support OTHL, often accompanying him to donate sticks to the boys at training.
Dutt works in the advertisement field and is FCB ad agency's National Creative Director. Wife Suruchi joins the party. Being an artist, she designed a couple of jersey insignias for OTHL to make it a family effort for the cause.
Dutt may have grown up in an atmosphere of cricket and football but hockey he proclaims is his first love – something that augurs well for OTHL and its manifesto, both sporting and social.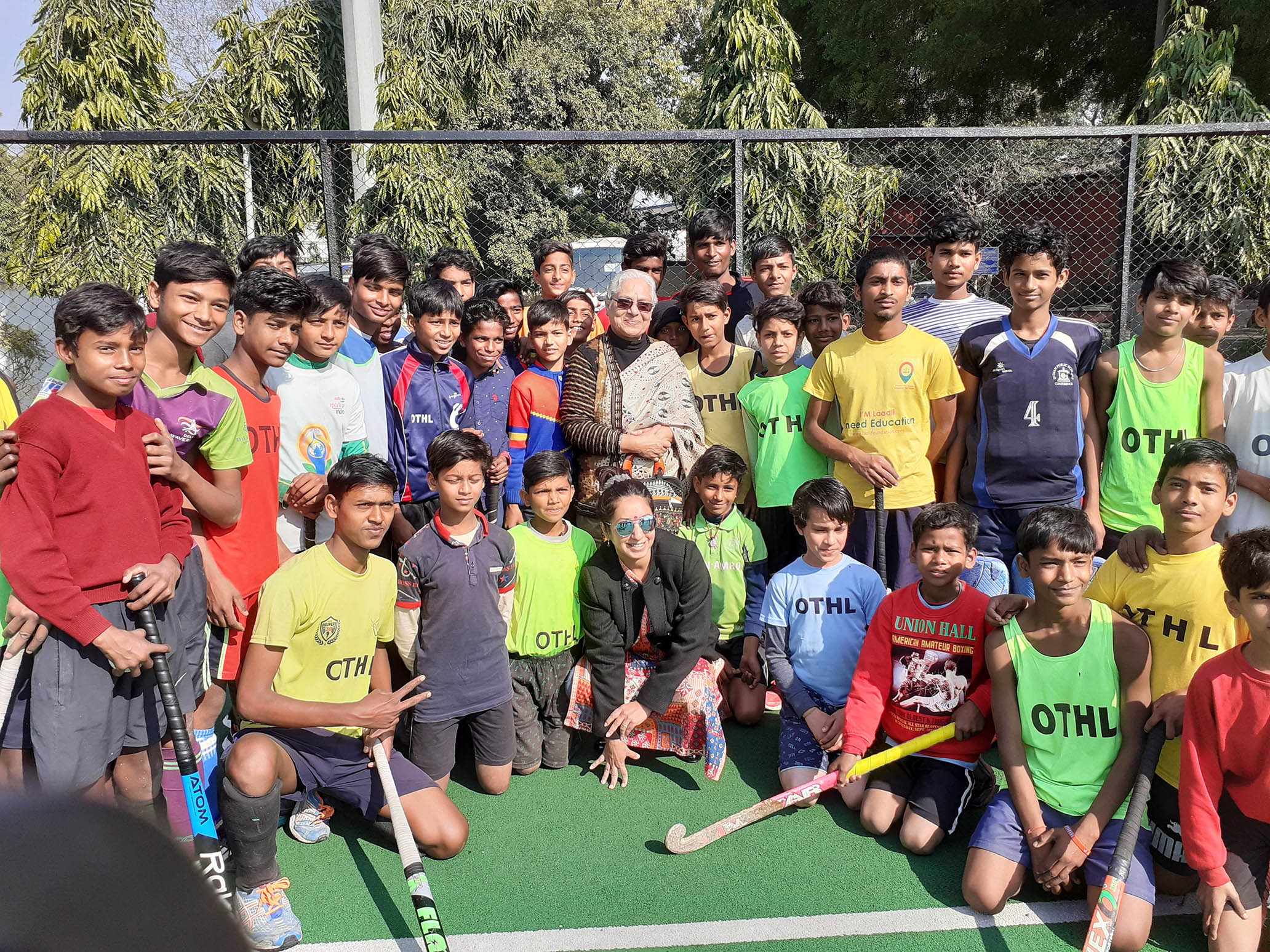 Sujo family is part of OTHL family
"I remember his first visit to OTHL Centre. It was Saket Centre, coincding with us installing first-ever full pledged goal cage donated by an USA based kind heart. On that visit, the first-timer to our work Surjo was amazed at seeing hundreds of kids bubbling with enthusiasm, buzzing around the ground like bees would a honey comb, and the atmosphere. He was so happy that he had spent more time than he originally intended to, clicking endless photos, and sharing the joy of the kids. The moments confirmed his deep love for everything the OTHL stands for".
"That day I decided we have got another genuine member to our small family. Sujo for sure is our asset", says founder K. Arumugam.