DUTT FAMILY AWARDS LONG TERM SCHOLARSHIP FOR SIX HIGH POTENTIAL OTHL KIDS
03/04/2022
Delhi based Dutt family adds a new vista to the highly acclaimed One Thousand Hockey Legs, our flagship program to promote our beloved sport by combining the sport with career promotion. Dutt family, which is an adorably huge and humble, will take care of six high potential OTHL kids on long term basis.
Surjo Dutt, the brain behind the novel step that fills one of the biggest vacuum that exists in the OTHL's efforts to fulfil its huge objectives, explains: "I am happy hundreds of kids from underprivileged section of our society are being benefitted through our combined OTHL efforts. I have been part of the OTHL for over a period of 5,6 years. In the process, I found it obvious there are many kids in the vast group who need special attention in terms of equipment and educationals needs, even nutrional demands etc. So, the thought that how to contribute and meet the needs has occupied me and my family's concern. We in the family with the discussion and blessing of the elders have decided to award OTHL -Krishna Dutt High Potential Award to six kids". I sincerely hope the idea clicks with the kids, and serve the purpose'"
Surjo is hastened to add: "Its not a mere question of funds. Its actually how it is going to be effectively utilized at right time and context. Its here I have enormous hope in the OTHL and its family of volunteers. They have the idea, execution plans and in the end see that things transform in the career of our kids".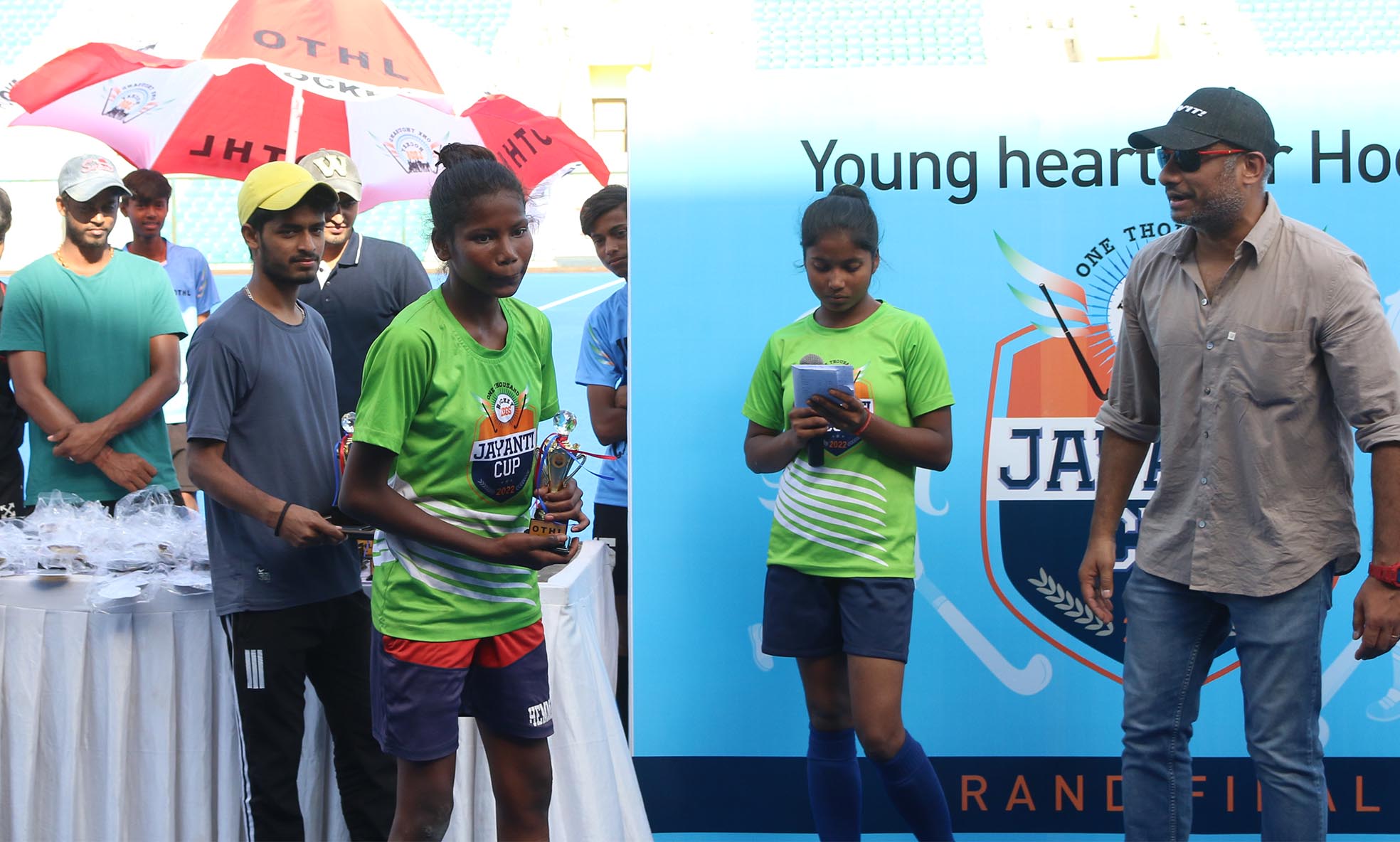 Tireless midfielder Lakshmi Kumari receiving Krishna Dutt Scholarship at the hands of Surjo Dutt
On behalf of the OTHL, its founder K Arumugam assured Surjo and family: "I welcoming the gesture. I also acknowlede its idea of Surjo. Now, another responsibility comes to rest on the shoulders of the OTHL. We will leave no stone unturned to see the kids genuinely garner the intended benefits, and help them harness their true potential"
Dutt and OTHL families will sit together in the coming weekend to work out exact needs, costs involved and the process parameters.
THE LIST OF SELECTED KIDS FOR THE AWARD OF OTHL-KRISHNA DUTT HIGH POTENTIAL SCHOLARSHIP
1. GEETA: 12-year old. One of five sisters to a daily wage labour. She excels as forward, even scored the solitary winning goal against the Dwarka team in the OTHL-Jayanti Cup on Sunday, the 27th March, 2022.
2. Mofita Ali: Daughter of Rajat Ali, the well-built defender is pillar of strength for her team. She is good at penalty corners, general defence, besides a role model for any aspiring girl in the OTHL canvass. She has three elder sister and a brother.
3. LAKSHMI KUMARI: Just within a year of induction in to the OTHL, she shot to fame with her high-quality, gifted game upfront. She catches the eyes of any watcher, even casual one, with her controlled game. Her parents do menial job to feed a family of four children.
4. SATYAM KUMAR: He is very lean, has chicken legs and drained cheeks, even giving an appearance of a sick-child. But Satyam is not. He defies his look and is a terro on the turf. Since coming into the OTHL fold two years ago, she perhaps not missed a single practice session and played a pivotal role in his school winning the first-ever Zone Cup.
5. ABHISHEK: Another 11-year old whose apperacen mal mislead of his true potential. A successful midfielder, Abhishek is engine room of his school team, needs a hugh doses of fitness regimes to harness his true potential signs of which are plenty and unmistable.
6. NASMINA: A joyous individual, Nasmina, one of the three daughters of a docile and uncaring father, depends on mother for all her career needs and care. Her social conditions are such that that she will be thrown into child labour if timely course correction is not applied.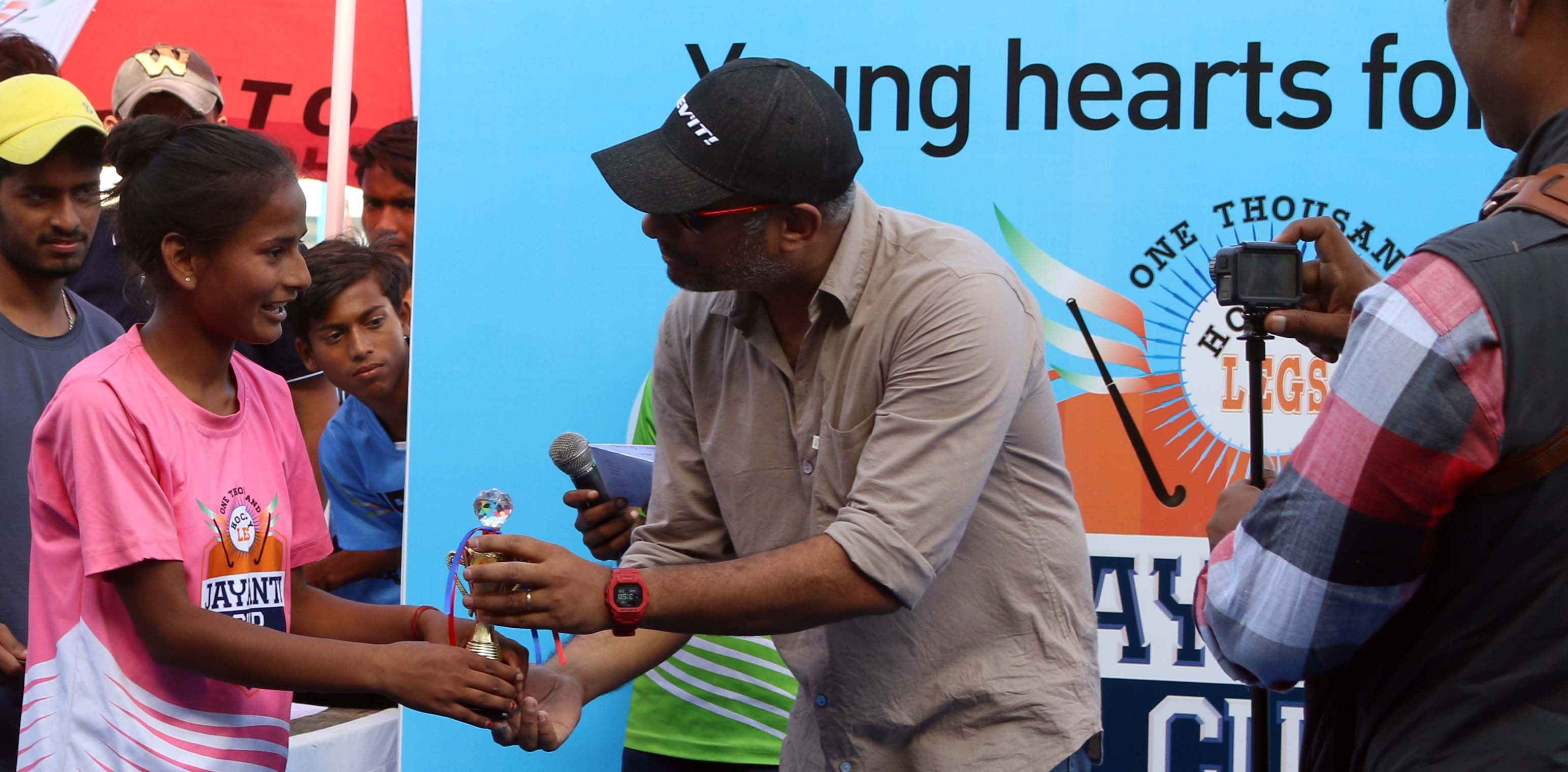 Neha of Shahpurjat receiving 'Best Player ' trophy
TEN PLAYERS WHO GOT BEST PLAYER AWARD AT THE OTHL-JAYANTI CUP 2022
1. MOSLIMA: Daughter of Anwar Mondal, midfielder, captain of Dwarka team that won the Silver, she runs the team singlehandedly.
2. SIMRAN: Daughter of Chintu, from SSD School, Patel Nagar. Being a defender and captain she holds the team together almost all the duration of any match.
3. LAKSHMI KUMARI: Lanky forward, hails from SBV, Dwarka. She also got Dutt Family's Scholarship. Already a star among the OTHL's playing fraternity.
4. Deeksha: Daughter of Mr Rohtas, the midfielder holds her Patel Nagar team together in times of attack, and made a name for herslef among her peers as a tireless figher on the turf.
5. KAJAL: Daughter of Natuni Ram from Govt. Sarvoday Co-Ed School, Shahpurjat is an One-girl Army to shield her team from conceding goals. Excellent at defence and also in penalty corners, she played pivotal role in her team winning the first-ever OTHL-Jayanti Cup 2022.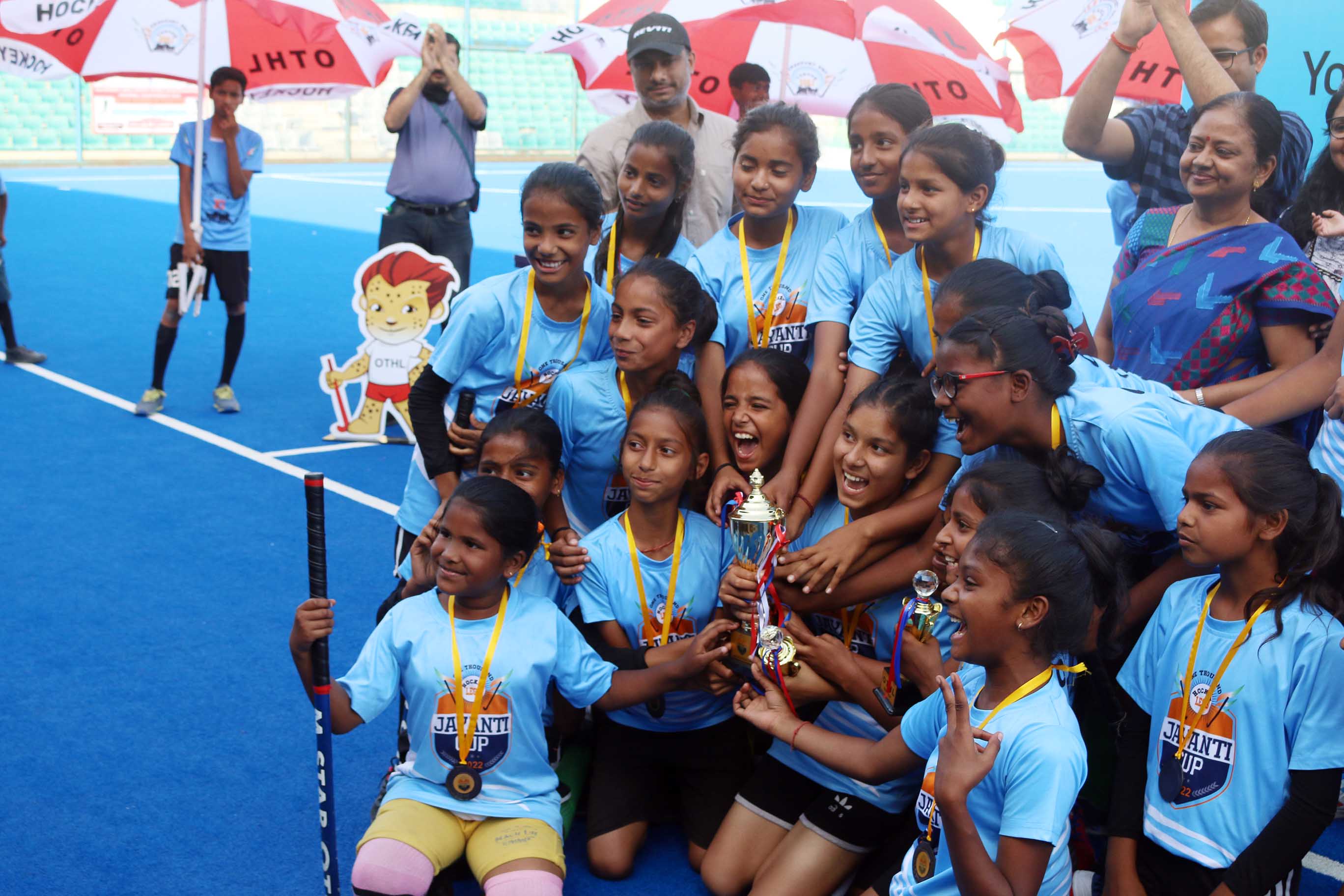 All smiles, all joy
6. GOVIND: Son of Hansda, Govind is proving to be a high potential prospect within the OTHL family. The 7th class student OF PG DAV School, Patel Nagar, is functual to both practice sessions and is totally committed to both education and sports
7. SONU: He is very small but highly dynamic forward whose prowess in scoring lies his school's match propspects. He scored many beautiful goals in the OTHL-YAYANTI CUP 202.
8. SAGAR: He hails from SBV Dwarka, committed and fit
9. NEHA: Whatever is said about her peer Gajal is applicable to this huge potential defender. We will hear about her a lot in the near future.
10. JATIN: A future Indian star, subdued off the field, explosive on the turf. No words can describe the potential he has within him thin frame. No doubt his school GBSSS, Ghitorni wins all the OTHL title in every calender year.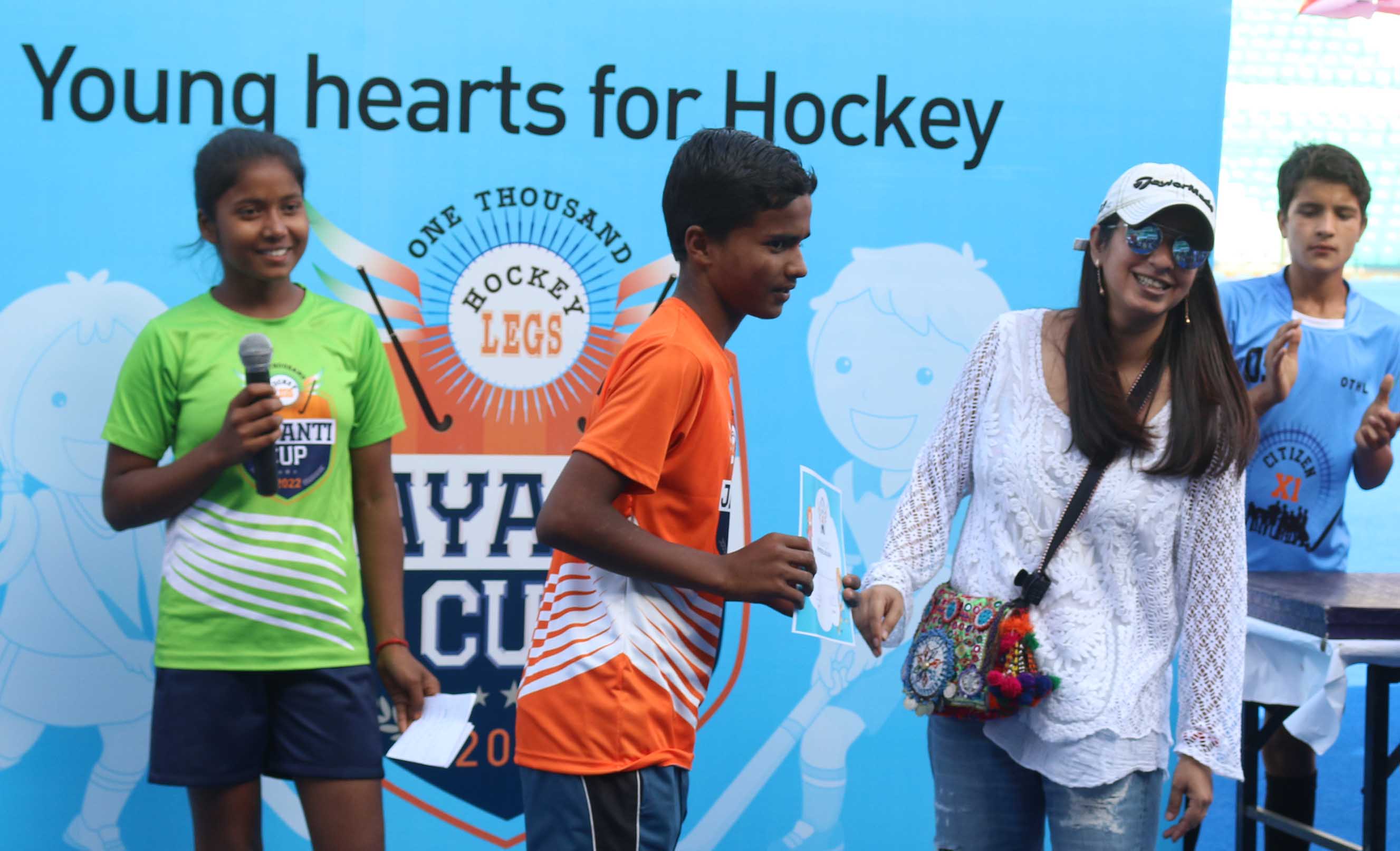 Ms Suruchi Dutt, who designed the Jersey for the kids, present the Scholarship Certificate
The OTHL project was started in 2008, formed and runs hockey teams across Delhi region, caters to about 500 kids every years with free equipment, tournament opportunities and training. Ninety percent of beneficiaries are from he marginalized section of Indian populace. For its services, the OTHL has received President of India's Grassroot Sports Promotion Award in 2016.