OTHL boys and girls shine in the State Championship
07/08/2023
Three of our girls were among the Delhi State Senior Championship winning team; while OTHl's Sr team annexed bronze at the same event. Both were held today at the Major Dhyan Chand National Stadium, New Delhi. The prestigious State event was organized by the State body, Delhi Hockey. Our OTHL girls too took part. They, led by Dwarka School's Moslima Khatoon, could not reach the semifinal despite winning two matches in the four-team pool.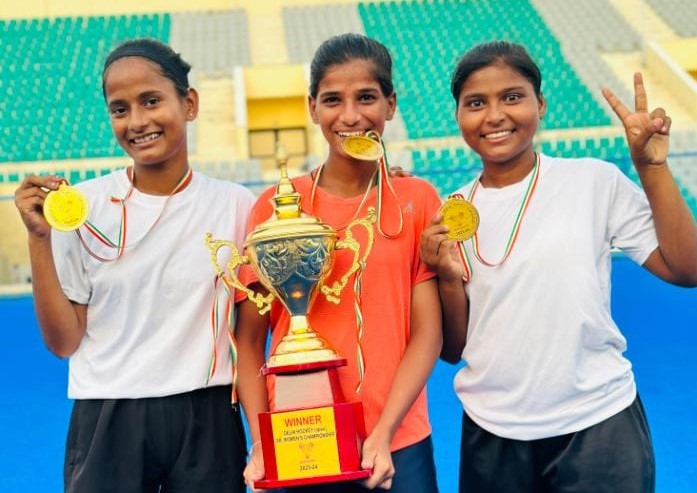 Gold winners Neha, Shabnam and Kajal
We, as a policy, encourage our players to seek greener pastures in other teams so as it gets them good position in major tournaments. We form our own OTHL teams after allowing such players to choose their teams outside the purview of OTHL. Our concern has always been, will remain so, our players getting medals and positions which will hep them prosper. In tune with our working policy, three girls joined a top notch team in the just concluded Delhi State Senior Championship (Girls). This team, called Golden Shepherd Education Club, won the Gold today at the Major Dhyan Chand National Stadium, New Delhi. Three girls (in pic) were part of the team. They are goalkeeper Shabnam Khatoon, who had this year played four major tournaments, defenders Neha Srivastava and Kajol Congratulations to the threesome - keep it up.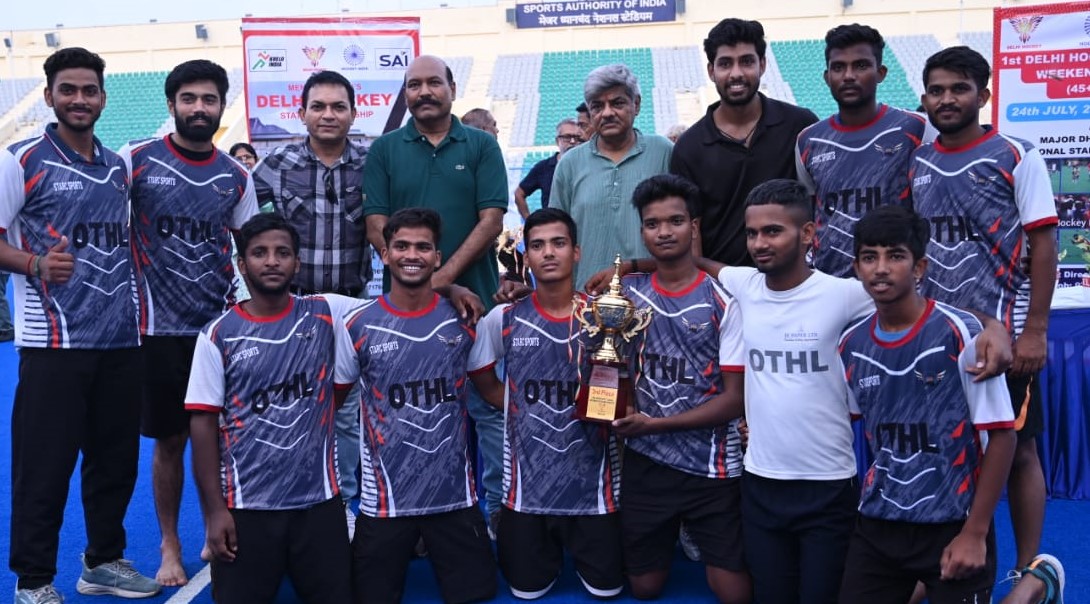 Our Senior team that won Bronze in the Delhi State Championship
On the men's side, our old faithful Sunil of 2011 batch (Saket) gathered best of talents and entered OTH XI in the men's Sr. category. The event was run on knock out format, a risky one. We had a tough rival in Gummenehra in the first match, which we came out triumphantly knocking them out. After doing the same with two other challengers, we were in the semifinal. However, despite taking 3-0 lead in the semis against Faith Club we lost the match 4-5. It was a close match, where umpiring hassles persisted to our surprise.
The 3rd place match was held today. We beat Ram Lal College comprehensively to win the bronze. Our passed out Abhishek Rana, who is working with CAG, Kolkata, came all the way to take part. Sunio led the side. Other prominent members included up and coming Jrs like Anil of Sultanpur, Yuvraj of Sultanpur, Manmohan SIngh of Ghitorni, SAI hostel product Ankush, talented goalie Rahul Jha, young talent Ashish Gupta, Priyanshu and Isholk Tiwari.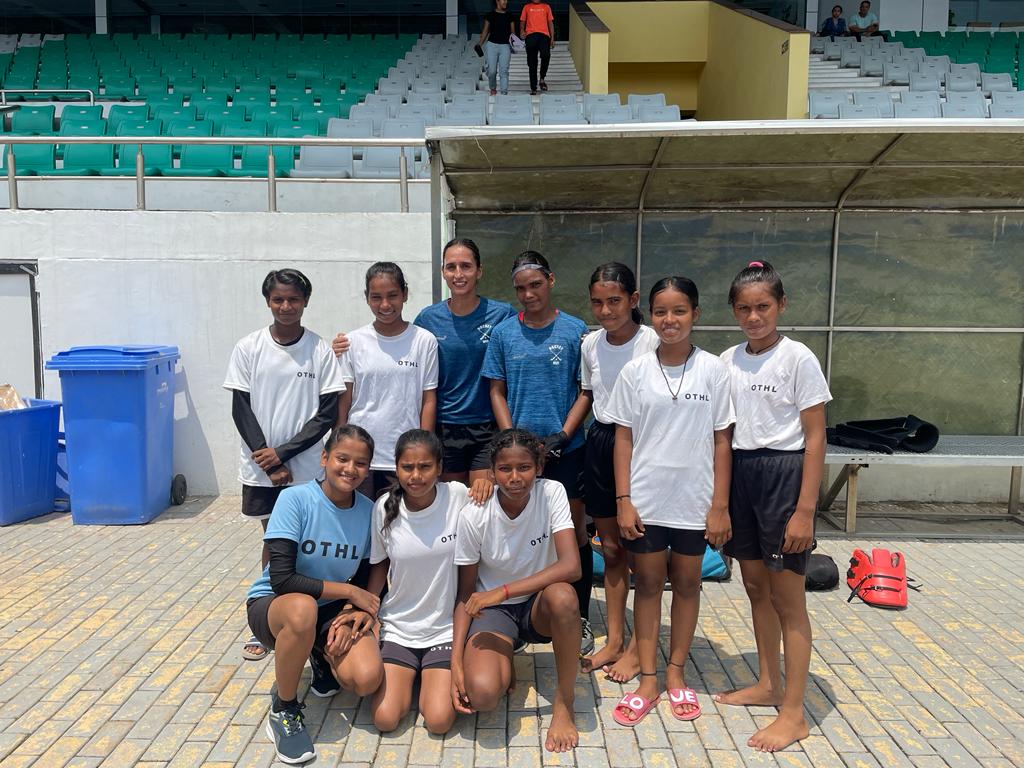 OTHL Sr team that did reasonably well in the Delhi State Sr Championship
We also fielded our Senior team in the State Sr Championship, though we dont have players of that age. Our girls were 13 to 15 years of age. However, we had a good talented pool with captain Moslima, defenders Richa and Mofita, midfielders Bharti, Neha Pramod, goalkeeper turned attacker Suchitra, and forwards Nasmina and Laxmi and others. As per rule we roped in four talents from outside too. However, we won first two matches but could not draw or defeat the last pool match which was against a strong Ghummenehra team. We went down 1-4 and thus were not in the reckoning for the knock out matches. However, many are of the opionion that ours is a team to be watched out.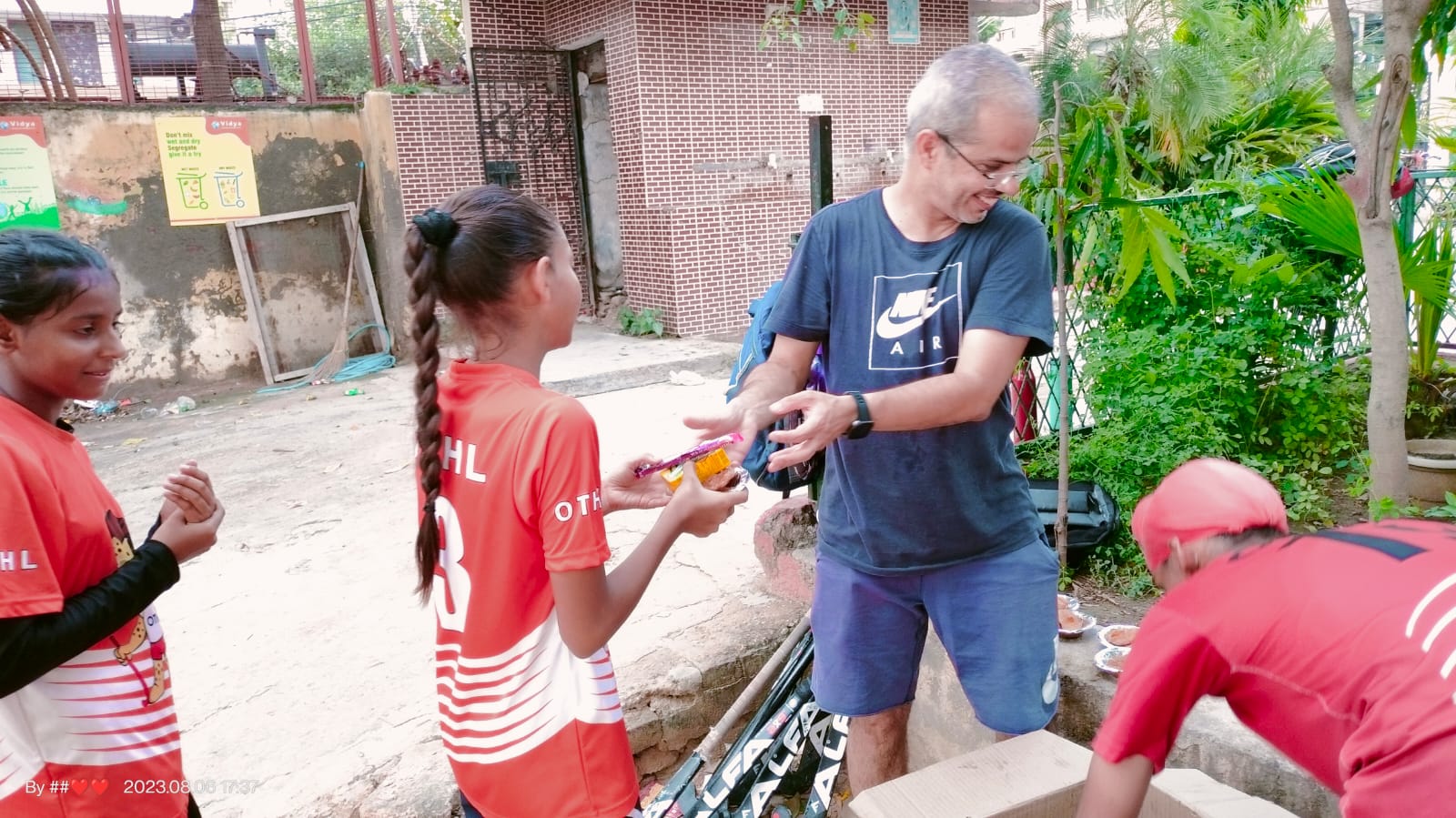 Our volunteer Manish Kalra distributing refreshments to kids
Meanwhile, our volunteer Manish Kalra Ji visited one of our OTHL Centre today. Rahul Gharai, our first batch product, and captain of Delhi's Jr State team, now playing for Jamia University, entertained him. Kalra Ji had an opportunity to interact with about 40 of our boys and girls, who normally practive at weekend in the school campus under the watchful eyes of Rahul. It was heartening Kalraji spared his valubale time with the kids. It was a confluence of minds. We encourage and expect all our volunteers and well wishers take out some time from their busy schedule and visit our centres. You will not be let down.