Men's Hockey Carnival kicks off at Petit Seminaire
12/08/2009
10th August 2009: It was the day of Petit Seminaire, an Educational Institution of great repute in the historical city of Puducheery.

The 165-year old school plunged into hockey mode on this day. There was a trophy unveiling and certificate distribution in the morning assembly. This was followed by another two events. First, quiz competition was held in their school premises and then in the evening Petit Seminaire School met Vivekanandha School (Lawspet) in the first match of the in their Primary School play grounds.

During assembly, where around 3000 boys tuned to prayers and speeches, Principal Don Bosco unveiled Hockey Citizen Group's flagship mascot "Best School Trophy 2009 for Puducherry" amidst the enthusiastic thumping up of students.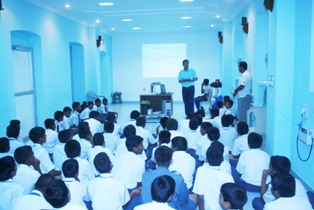 Quiz Under Progress in Petit Seminaire
Speaking on the occasion, Shashank Gupta, Head Operations, One Thousand Hockey Legs' said that based on winning the league matches, quiz tests and commitment of the school to the hockey program, the trophy will be given to one of the seven schools who have taken up hockey at the instance of Hockey Citizen Group.

About 25 students who attended summer camp held in April this year were then given a certificate, at the hands of the principal. Uniquely, this certificate carries each player's photograph.

This certificate distribution function and unveiling of trophy took place around 9 am.

Half an hour later, 15 school boys and about 50 other students assembled in the Computer Room to take part in the Hockey Theme Quiz.

Shashank Gupta conducted the quiz while Jeyaees, our hockey coach in Thiruvandaarkoil, kept the scorers.

Five teams of three each, who were given literature in advance, took part in the 0ne-hour quiz. An hour later Group D won the honour and also a token purse of Rs.500. Questions were also asked for the spectators, winners of which were given posters of current Indian hockey players.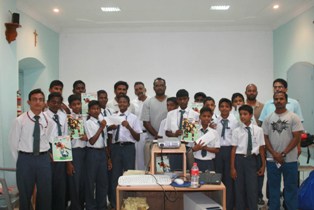 The Quiz Team of Petit Seminaire School
Here are the detailed results:

Team A
Simon Jude V S (9-D)
Sunil Kumar J (9-E)
Arnold Rayalu (8-I)

Team B
Shanmuganathan V (9-H)
M Arun Rama Krishnan (8-C)
Rosario Bosco (9-D)

Team C
R Ranjith (9-B)
D Balaji ( 9-D)
R Revanth ( 9-G)

Team D
V R Balaji (9-B)
B Mirthan Krish (8-A)
P Ihon Antho Oliver (8-H)

Team-E
P Pradeep Raj (8-A)
L Rathna Kumar (8-E)
G Amgrith Biju Paulson (9-G)
F Revanth (8-D)

Results:
Team A: 29 points
Team B: 9 points
Team C: 14 points
Team D: 5 points
Team E: 33 points

Winner: Team E
Runners up: Team A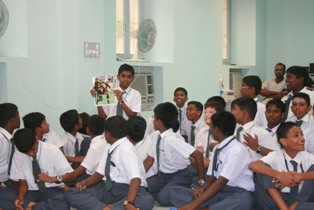 A Spectator Winning A Poster
At the Primary school compound of the Petit Seminaire school, first match of the 'Puducherry Schools Hockey Legue' was held around 1600 hours. About 300 students were brought to the stands to watch the all important match.

There were shortcomings from the part of organizers, that is we, in terms of getting the ground ready, drinks on time etc etc, but once the ball was set to roll, everything else was forgotten and hockey took the centre-stage. There were goals, celebrations, crestfallen movements, after 40 minutes both teams have to split points. The score of the first match stood at 1-1.

The prize money of Rs.1000 and the runners up sum of 250 was shared by both the teams.

For Petit D Balaji and G Bharath for Vivekanandha School pitch in with a goal each.

Bala of Amalorpavam School and Dominique, a personality from Bangalore, umpired the match, in a sense, we have a neutral umpire.

So, dear friends we had started our Mini Hockey Carnival in Puducherry. We will come out with match details and those two players who scored the goal of this match, who won the Man of the Match, who selected him, all in a short while.