Kuruvinatham Children steal the show on the final day
22/08/2009
13/08: It was the same venue as the day before –Amalorpavam school premises. The visiting team was GHS Kuruvinatham.

Just the presence of Kuruvinatham children on Day 1 and their practice on the ground had made the coaches and children fear a very strong upcoming team – GHS Kuruvinatham. Word spread around very quickly and Amalorpavam HS School on this day knew what they can do to contain a very strong opponent.

A defeat in their own premises a day before, added to the pressure of Amalorpavam children. However, once the match started amongst a huge gathering of 100 odd children, there was no dearth of excitement.
However, the small lads from Kuruvinatham proved out to be the finding of the tour and were swift enough to score goals one after the other.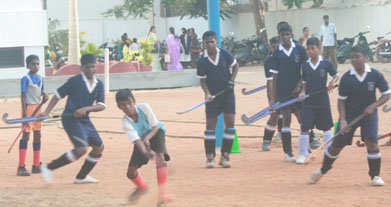 One man show
A tuft first half, with Kuruvinatham children over the entire opponent's D, Amalorpavam conceded 3 goals.
Some consolidation and pep-up talk during the half time and Amalorpavam children were smart enough, this time, to diffuse the ongoing slaughter. They made a few brilliant moves but Kuruvinatham's goalkeeper, not much involved in the whole game though, knew his job well. The score ended at 4-0 with everyone having praise for GHS Kuruvinatham children.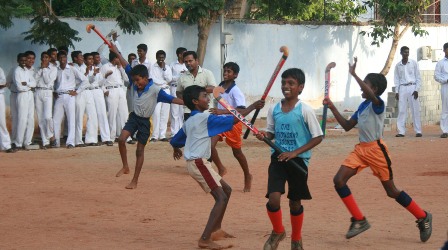 They deserve that
The highlight of the game was near 90% ball possession of Kuruvinatham team.
The goalscorers were Bhuvaneshwaran with 2 goals, Sudariah and P Balaji with 1 goal each. Bhuvaneshawaran got the man of the match award for his merciless hits at the goal.
However, Amalorpavam children were not at all disheartened. They mentioned to the OTHL team that they will surely win when we are there, the next time.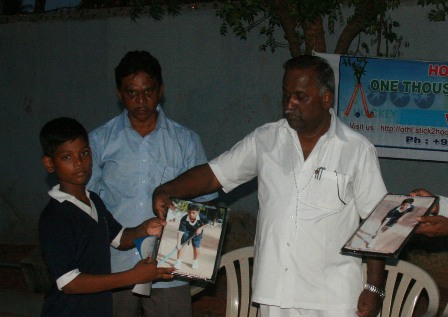 Prize distribution
Hari Krishna and Sudish Kumar were the umpires for the match.

The prizes were distributed by Mr. Lourdusamy, the Prinicipal of Amalorpavam Higher Secondary School.

This exciting match marked the closure of Pondicherry 1st leg of Hockey.