Report: Puducherry Schools Hockey League 2009
09/09/2009
All the efforts we in the Hockey Citizen Group put in in the last eight months blossomed to a satisfying level in the second week of August.

The purpose was to kick off the Hockey League in schools -- play and host matches in school premises, and also to spread knowledge in an exciting manner, and it was accomplished with the conduct of series of Quizzes in all the partner schools.

With the intent of promoting hockey culture, One Thousand Hockey Legs, a project of us, was put in place in 5 schools in Puducherry in the fag end of last year. National Game hockey was not in these schools till we entered the scene.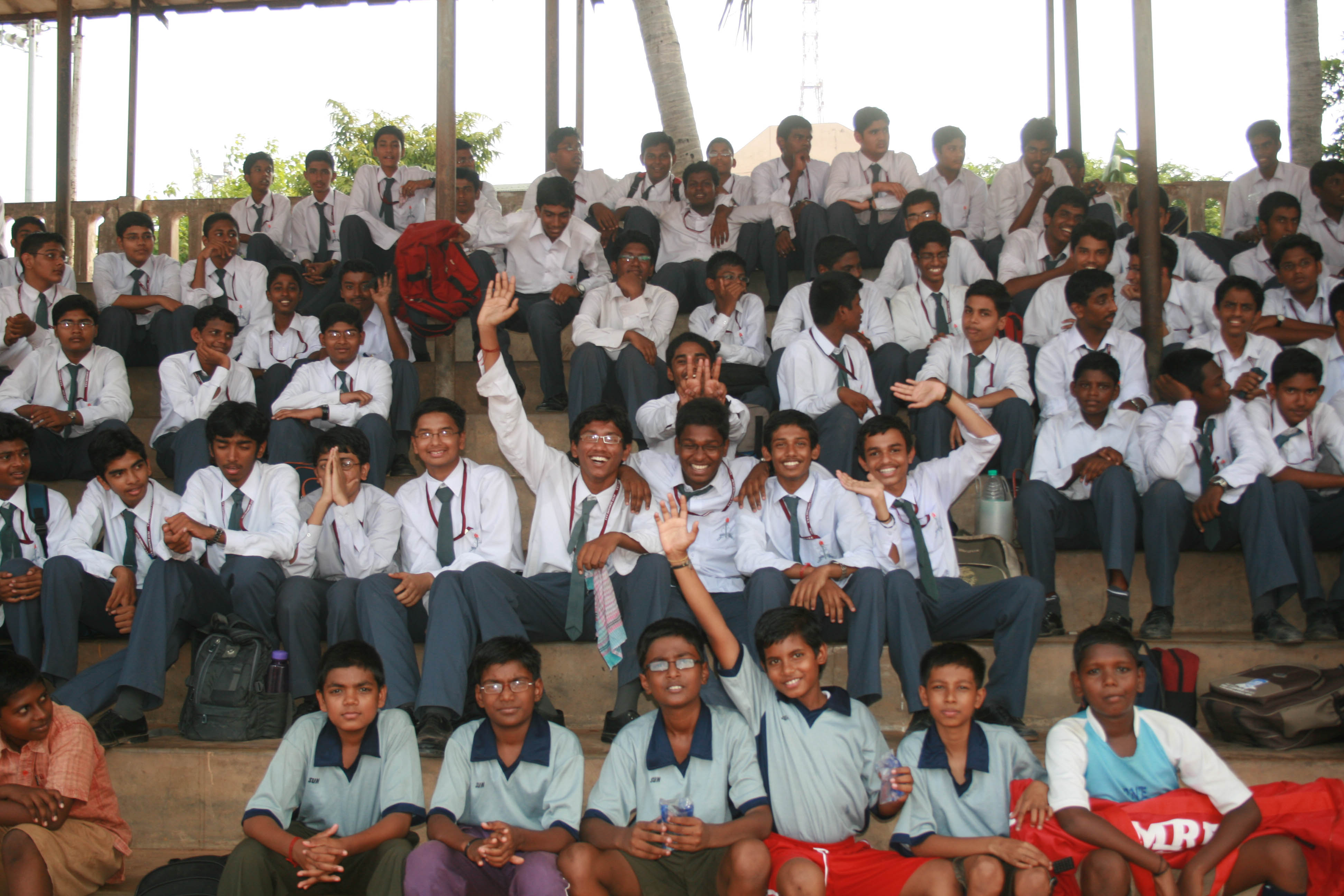 Sea of students watching a match, its fun all through
Over a period of 7+ months, systematic coaching was conducted in each school's premises on a regular basis - twice a week for an hour each to 20-25 children. We paid the coaching fee.

To boost the morale of children, coaches and others, we conducted a Summer Camp last April. All those participants were given a Certificate in which their photo was printed.

Against this backdrop, to take the game to the next pedestal, we conducted this festival in August to start a school league.

Over a period of 4 days, 4 matches were conducted in Petit Seminaire HSS, Amalorpavam HSS and Vivekanandha HSS premises. The excitement, both from the players and the spectators, humbled us thoroughly. We ourselves had not expected this kind of response.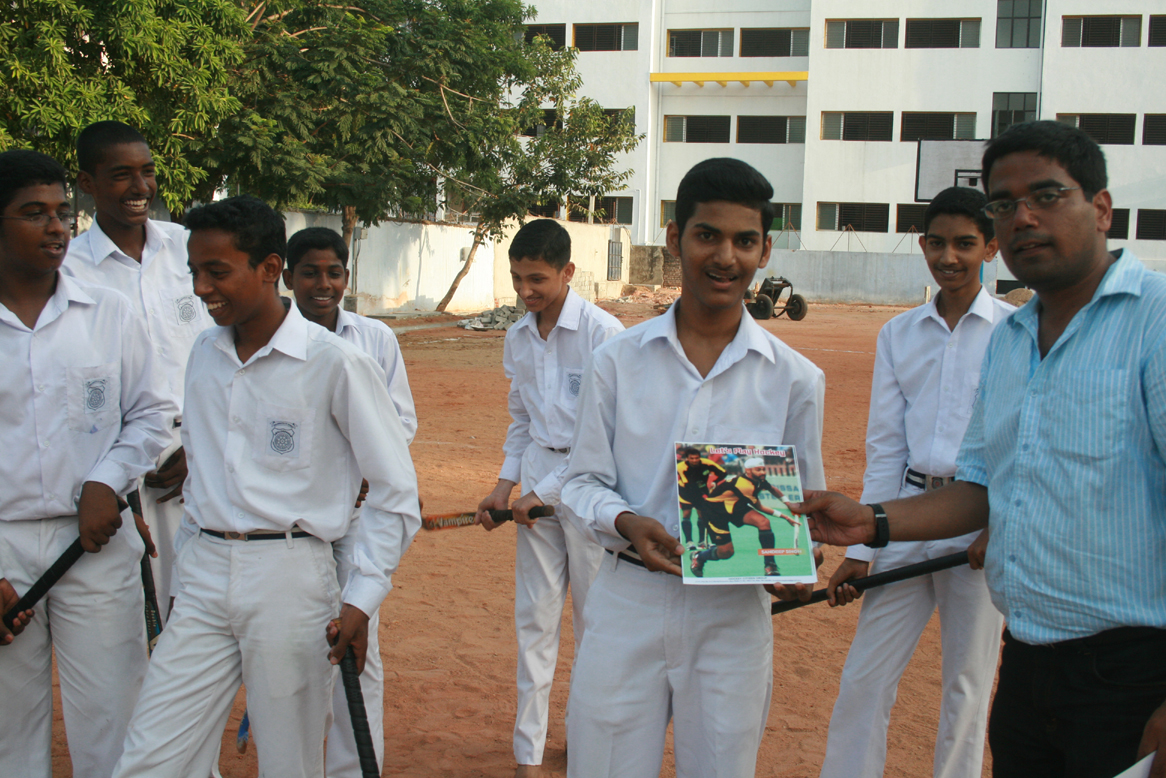 A spectator-student getting a poster gift
Each match carried exciting cash prizes with winner getting a Rs.1000 and runners-up Rs. 250. Posters as consolation prizes and a book for Man of the Match were given out in each match.

We kept it very official, i.e. we maintained match sheets and the officiating umpires were given a token amount as a mark of respect for their contribution.

We did learn a lot of lessons as well -- we have to go a long way before technically equipped to organize matches, for instance, we did not have with us the basic requirement of, say, check list, and instruments like whistle.

During the half time of the matches, we cajoled and managed to call the spectators - children from other classes, told them a simple Hockey drill, asked them to repeat it. For instance, putting the ball inside the circle with only a goalie to manage. Those who scored got poster. Yes, we got printed posters of current hockey players. This was an instant hit!

At one time, the excitement during this event was so high that we had to postpone the resumption of second half of the match by a clear 20 minutes to keep them engaged with hockey. I am sure it is first time these students touched a hockey stick, which many of dare to call hockey bat!! That was the level at which we work.

Hockey Quizzes were conducted in all the school premises with at least 50-60 other class students as watches. The winning group got the entry to the Grand Hockey Quiz that is scheduled to happen in Nov-Dec, later this year. Cash prizes of Rs.500 and Rs.200 were given to the winner and runners-up. Posters were given for Audience Questions. Audience response was thrilling. I still remember the faces of children, who managed to get the Audience Question correct although they didn't know anything about Hockey.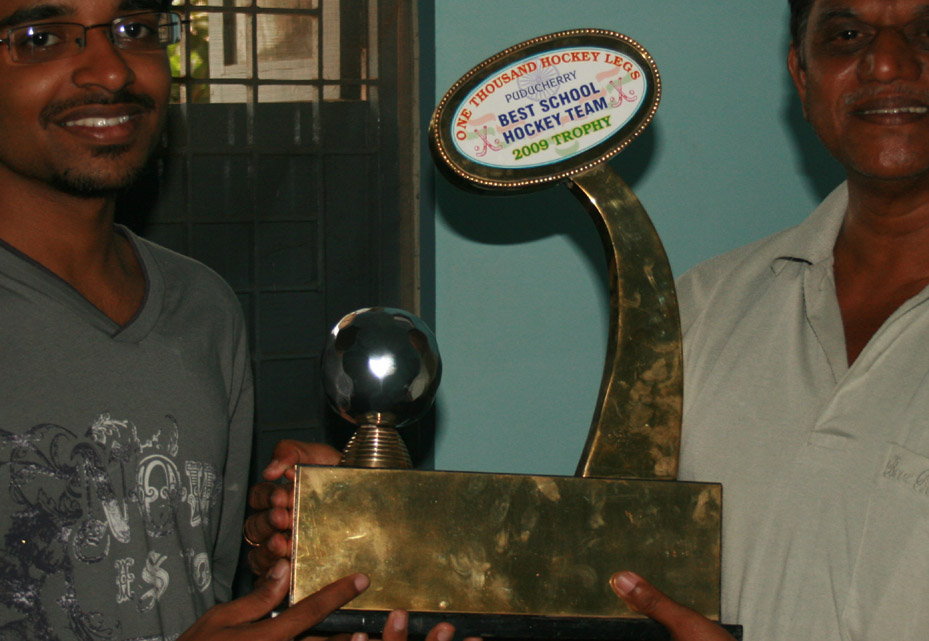 Best School Hockey Team Trophy for Puducherry
Each day the match would conclude with the prize distribution ceremony.
A number of photographs were taken which you can easily browse at othl.stick2hockeky.com A few were framed, titled, "I am a Hockey Player" and given to children as well.

A "Best School Hockey Team" Trophy for the year 2009 was unvieled too.

The 2nd leg, due to start in a few months, would conclude the league.

Based on League points, Quiz performance and overall participation, the Trophy will be given to a school.
So, there is a lot more to happen in Puducherry!!

The accounts for the whole event is as follows:

Cash Prizes Rs. 10650
Umpire Coaches fees, etc Rs. 1500
Trophies, Certificates Rs. 8805
and Photograhs
Refreshments during the matches Rs. 3130
Transport Rs. 775
Stationary (Xerox, Postage, Couriers) Rs. 466

Total Rs. 25, 326.

None of above include travel of the volunteers to Puducherry, their stay, their boarding, lodging or any other personal expenses.