OTHL kicks off in Kolkata - Day 1
14/11/2009
After about six months of home work, our OTHL kicked off in Kolkata. We had two days of program, following is the sum up of Day 1 (26 Oct '09).

Our day started with our meeting of Don Bosco School ( Park Circus) Principal to request them to take up OTHL. Mrs Britto, teacher in the same school. introduced us to Principal, Father Siby. We explained him our objectives and handed him the letter inviting his school into our programme. Fr. Siby promised to get back to us after consulting his pupils on their willingness to join our programme.

Our next stop was at the Julien Day School at Ganganagar.

We met the Principal, Mr Melville Samuel, in his mid fifties, looking younger and fit thanks to a 20 hour day, a spartan lifestyle and a rigid dieting regimen. He is an amateur musician too. We were able to strike a rapport with him and soon we were ushered to the school assembly of about five hundred schoolboys and girls from the sixth to the tenth standards.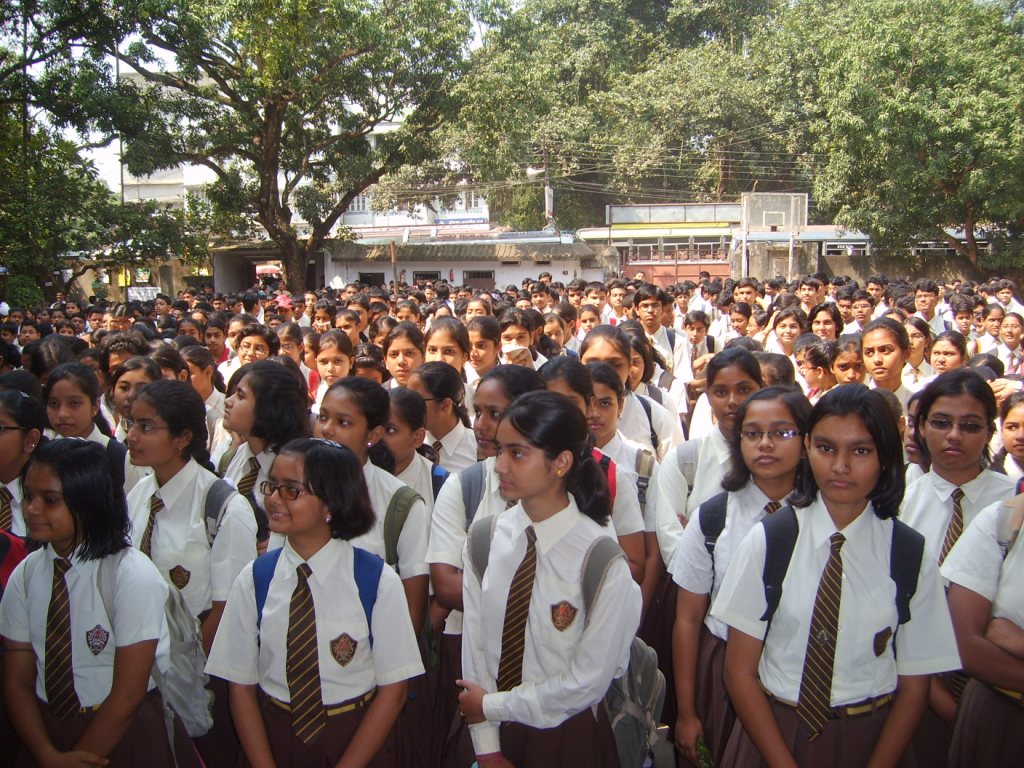 The Ganganagar Julien Day school assembly
Mr. Samuel addressed the assembly in an informal tone and introduced us to the students.

After this I gave them a brief outline of who we were, why we were here, why we were promoting hockey and what the programme would be like in the school. I expressed my gratitude to Mr Julian Glynn Broughton, Mr Rockey Downes, Mr Ronald Maxfield (the school caretaker who received the equipment from me the previous evening) and Mr Melville Samuel for their cooperation.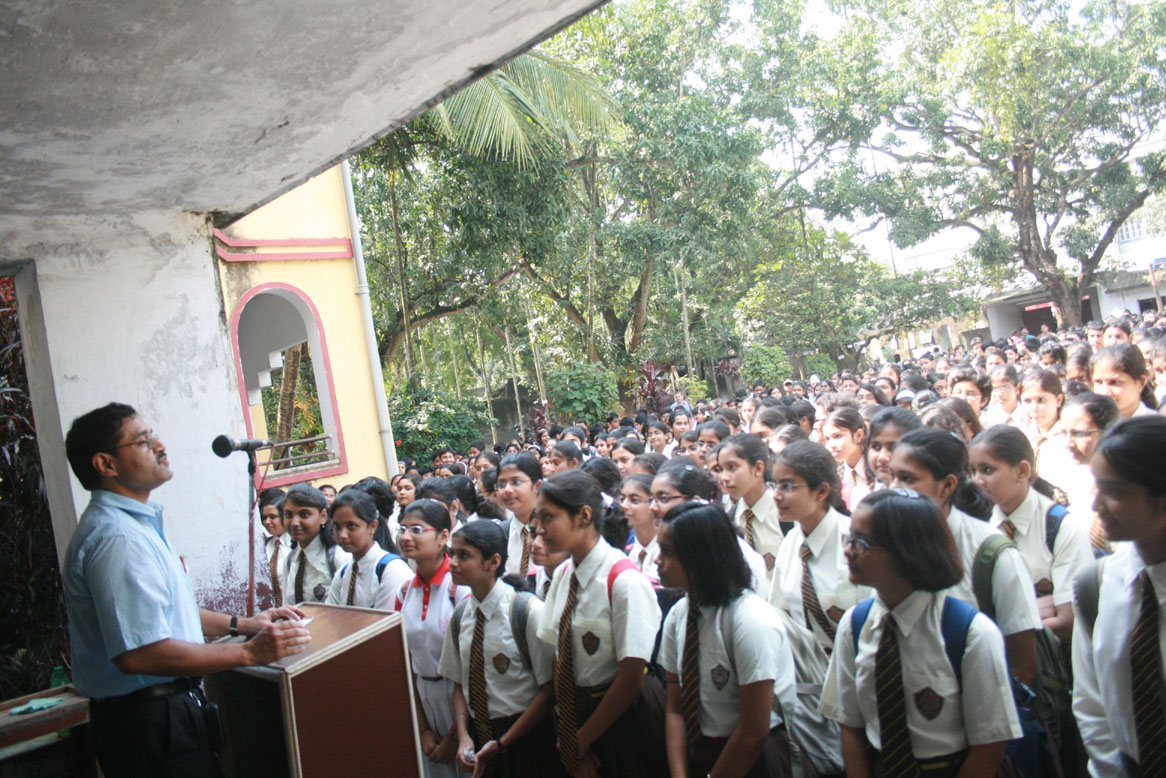 Dr. S K Chatterjee addresses the Ganganagar Julien Day School Assembly
Mr. Arumgam then took over and gave them a brief history of Hockey in India including its glorious moments in the thirties and fifties. Thereafter he gave me the privilege of handing over the hockey sticks and the balls to Mr Samuel.

The school children responded us with an enthusiastic applause every time we spoke which peaked during the ceremonial hand-over of the sticks and balls.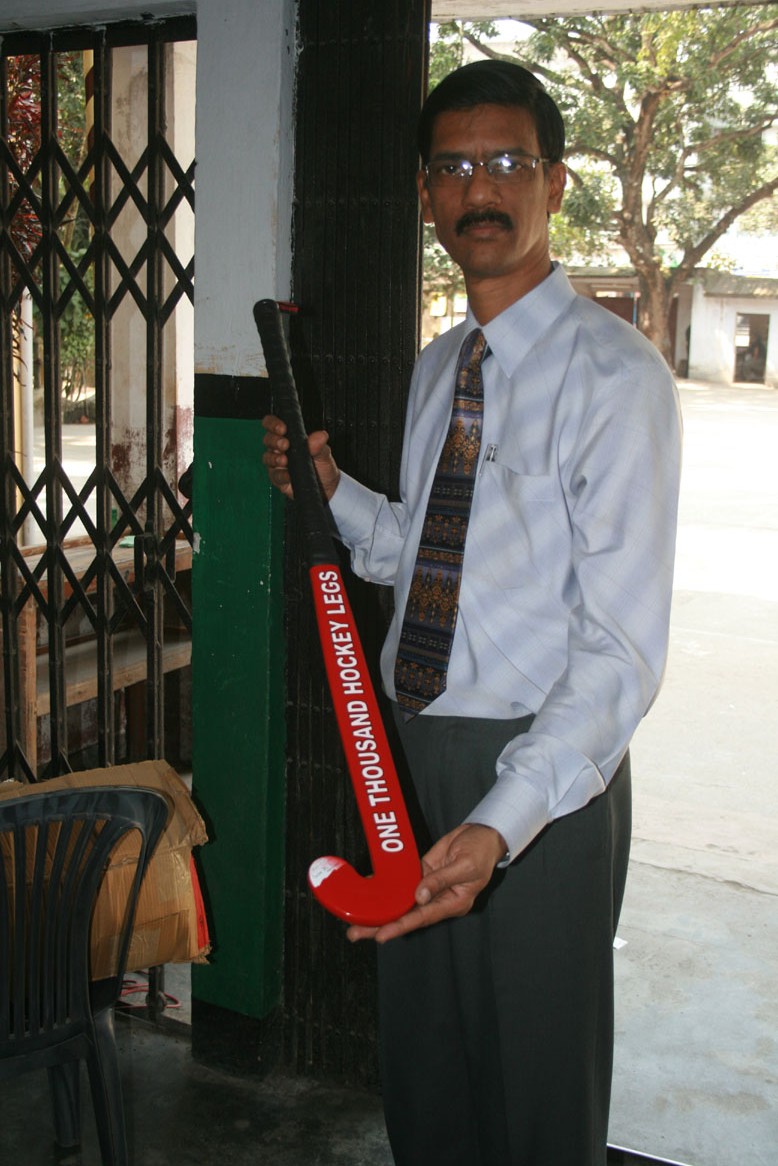 Mr. Samuel with a stick
After a brief social interaction, we moved on. This marked the close of the Day 1 of kicking off One Thousand Hockey Legs in Kolkata. The next day's programme was to kick start the programme at another couple of schools, i.e. Khalsa School Bhowanipore and the Shantisangha School at Parnashree in Behala.