Aditya Vidhyasram embraces hockey and OTHL
25/11/2009
Aditya embraces hockey amidst rain and unabatting enthusiasm

Up and coming educational institution of repute, Aditya Vidhyasram of Puducherry, embraced hockey on Tuesday, the 23rd November.

The occasion was marked by a simple but impressive function attended by a couple of Hockey Citizen Group trustees including V. Ravichandran.

The school principal and hockey conscious M. Selvaraj also graced the occasion.

A batch of girls and boys received sticks, shinguards and stockings, bought from Jalandhar in Punjab, and then the enthusiasts students interacted with the visting Hockey Citizen Group volunteeers.

Event the intermittent rains did not damphen the spirit of the occasion marking induction of this 5-year old and 3000-student-strong instituion in the fold of HCG's flagship program, Onethousand Hockey Legs.

Aditya Vidhyasram is the seventh school in Puducheery to enrol under the innovatiove One Thousand Hockey Legs.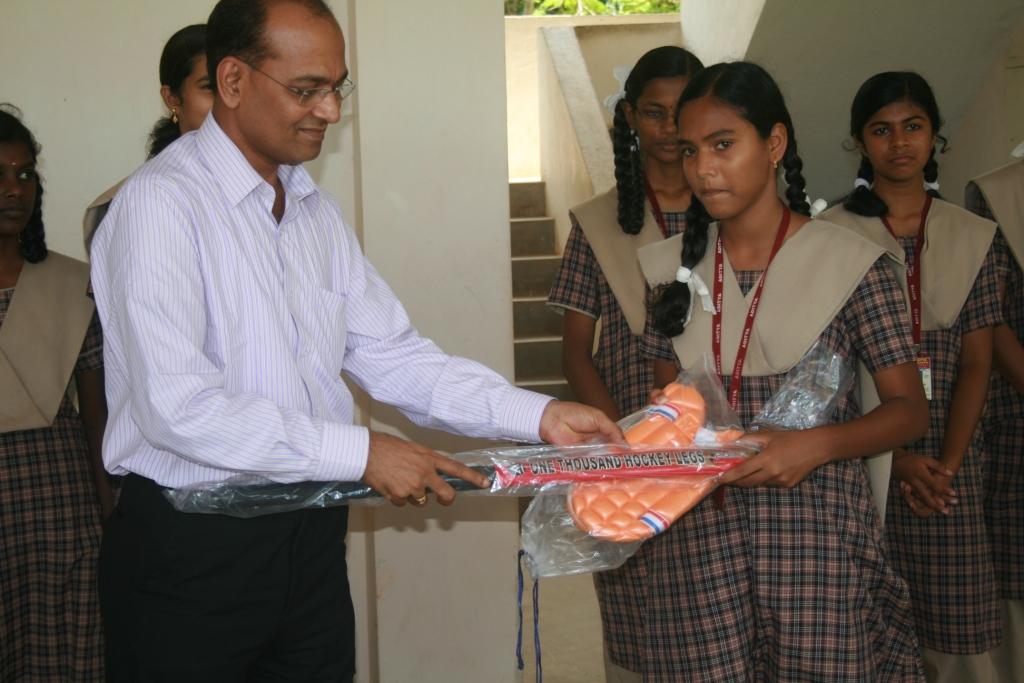 Hardcore OTHL supporter, V Ravichandran gives out sticks to Aditya Vidhyasram children
Emphasising that hockey is our national game and it needs to be played in their campus, Principal Selvaj, 65, told the students, "Five S are important for hockey. They are stamina, strength, speed, stickwork and strategy".

In a candid admission of frankness, V.Ravichandran, 50, said, "When we were students, we missed sports, we only concentrated on studies. Now at this stage of my life, I definitely feel we lost something in our youthood. Therefore, we wish you have a full life with all zest, i wish you to play well even as you study well".

The interaction between students, principal and HCG volunteers lasted about an hour.

The students, it is gladly noted, are aware of many facets of sports especially hockey. Most of them have seen Chak De India, knew about hockey players of repute, present and past.

Quoting the hugely popular Hindi film Chak De India, Ravichandran reminded the students the importance of team work -- that was showcased in the film in a telling manner.

"Team work is not just important for attaining sporting laurels, but also for success in every walk of life", the oil executive, who came from Chennai to be part of the days' proceedings, noted.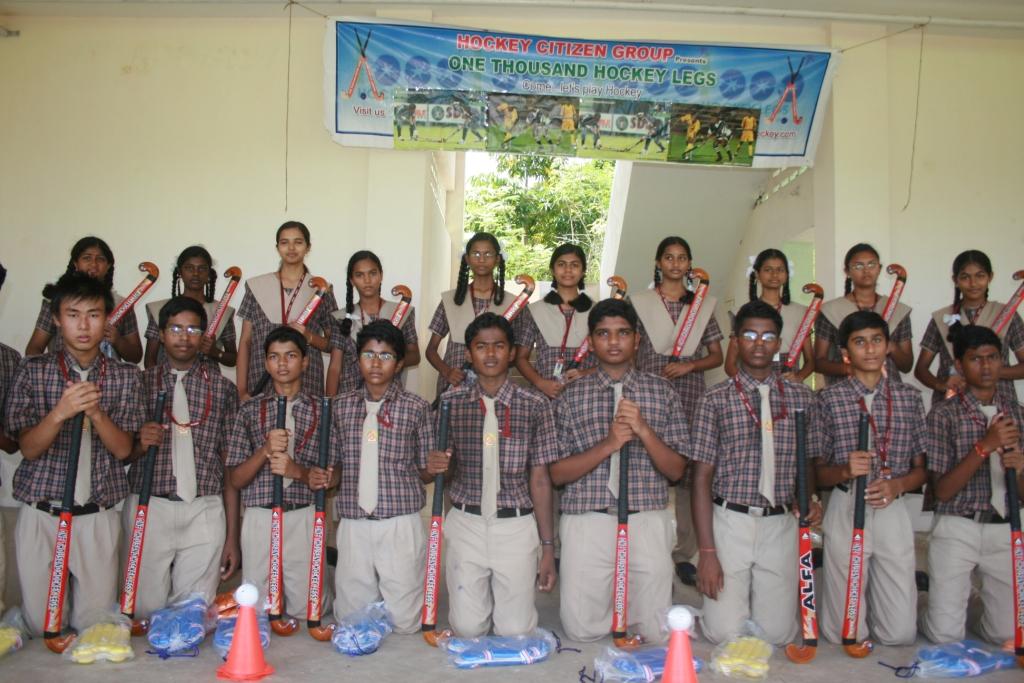 The happy team!
The sports knowledge of the students was the endearing aspect the day. A student from Manipur could name famous goalkeeper and former India women's captain Tingonleima Chanu when some discussion came on women hockey.

V. Ravinchandran and K. Arumugam also met A. Ashok Anand, Chairman of the organization that runs the Aditya School, who himself a swimmer.

Placards with catching slogans on hockey was displayed on the verdue that confronted the stage where the diginataries interacted with the students.

'I study Well I play Well', 'Dhyan Chand, Dhanraj Pillay, - Next Me?', 'I read a hockey news days every day', 'Turf or grass, even sand, I am ready to play hockey" are some of them.

Aditya is a residential school located about 6 kms from Puducherry city. Students from almost all states are enrolled here.


Check out that panorama
Hockey Citizen Group volunteers who reached the school despite rain, returned happily soaked with memory and emotion -- that might last their life time.

The school was supposed to join the OTHL bandwagon a couple of months ago, but had to be delayed due to untimely death of Vijayalakshmi Ananda, founder of the school.

Stating this Manickam, Project Officer, Puducherry said, "She took lot of interest in hockey, in our program. I really feed sad she is not here today to witness her school joining the hockey family".

Bala Dinakaran, the yoga master of the school, accompanied the visiting volunteers, and extended warm welcome and hospitality.