It felt great, every moment of it
22/02/2010
Kanpur: 21st Feb
On a cool Sunday morning at 6am, I went to Indian Institute of Technology, Kanpur (aka IIT Kanpur).
The occasion was to witness One Thousand Hockey Legs, Kanpur children participating in IIT K Golden Jubilee Marathon.
The children were participating in 5km run to symbolically show case to the World their love, support and passion for Hockey.

The enthusiasm could be felt right at the IIT entrance gate on a moderately chilly Sunday morning, where lot of spirited kids were lining up to be allowed admission into the IIT campus by the security staff. By the time I got to the Student Activities Center at IIT where the cross country race was to begin, the buzz only became louder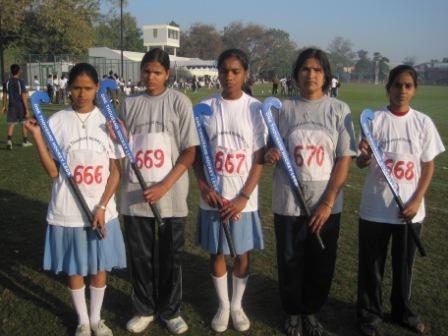 A bunch of enthusiatic ladies
There were a lot more people than I expected and I felt very excited. There were people of all ages ranging from 3 year old kids to 60 year old IIT professors and staff. It was such a wonderful sight to see so many faces all ready to go. There were 5 races, one each of 50km, 21km, 10km, 5km and 2km.

The kids representing the One Thousand Hockey Legs (OTHL), all belonging to the ages of 13 to 16, participated in the 4th category of runners, i.e. the 5km run. About 25 students from 7 schools represented OTHL, along with 6-7 members of the coaching staff from those schools. The race started at precisely 6:40 am.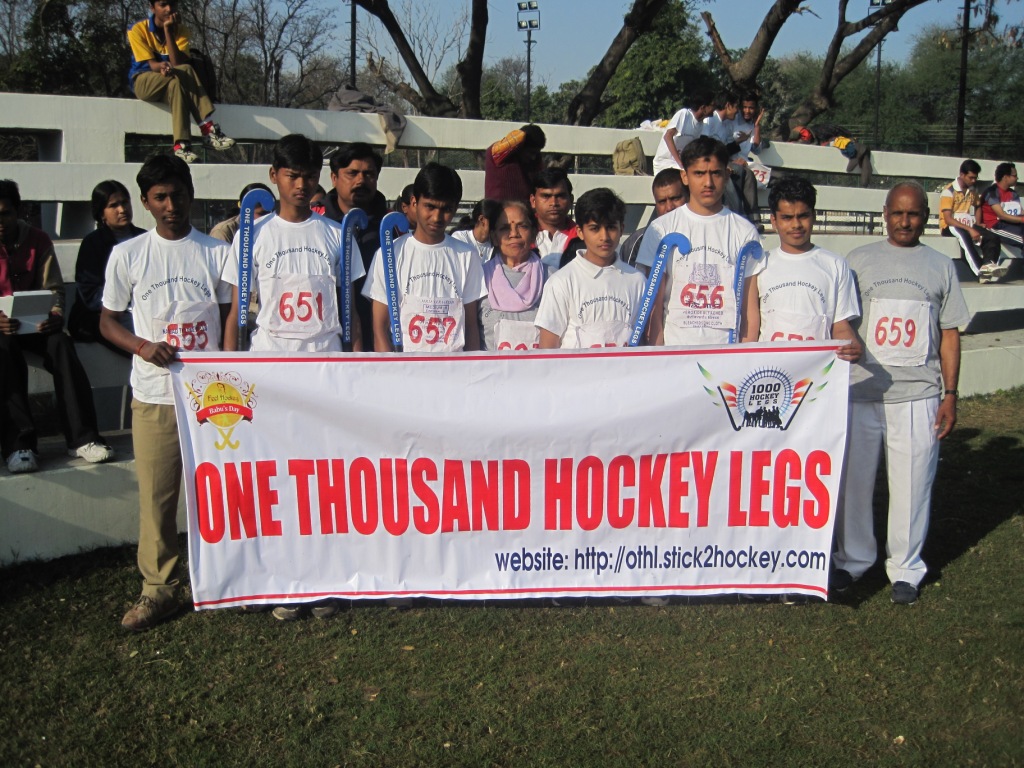 A few more!
The best thing of the day happened at the finishing line. In about half an hour came the first set of runners, having to circle one last round of 400m of the racing tracks at the stadium before they could claim they completed the race.

7 out of the first 10 people belonged to OTHL, with the fastest one finishing at the 2nd place overall. An even more amazing thing was that the 58 year old head coach from one of the schools representing OTHL led the group of 55+ age with the second person in that category followed only a distant 2nd.
Full Gang!!
Mrs. Mithilesh Gupta, who was one of the co-ordinators for the participation of OTHL, followed soon with her brisk walk. After all the kids completed the race, we all assembled together and she encouraged and praised everyone for their participation and achievements.

The event concluded with the distribution of refreshments and a photo session followed by a note of thanks to everyone by Mrs. Gupta. The moment was truly satisfying taking me back to my childhood days, feeling the same enthusiasm as every kid around the block. It felt great from the start to the end, every moment of it.

Note from OTHL Team:
1) We extend a sincere thanks to Jatin Bhatia, a supporter of OTHL. Jatin, who is on vacation in Kanpur, took time off his otherwise busy schedule and went down to spend couple of hours with the OTHL team and encouraged them in their run at IIT Kanpur. He was a great help in accomplishment of this event.
2) Mrs. M Gupta and Mr. S K Gupta, local OTHL volunteers, were instrumental in materializing this event for OTHL. A big thanks to them as well.
3) The following children and adults participated in the run:

DPS Azad Nagar:
Raghav Agarwal
Anurag Mishra
Ajit Kumar Yadav
Shatyeb Sheikh
Tanmay Shadiza
Anurag Bhardwaj
Faizul Ghani
Sanjay Pal
Vikas Saini
Subodh Shukla

Nagar Nigam Balika Vidyalaya, Sarvodaya Nagar:
Kumari Aarti Kanojia
Mohini Kushwaha
Kumari Neha Singh
Sonam Yadav
Sudha Dixit

Deen Dayal Upadhayay, Azad Nagar.
Brijesh Kumar
Manish Kumar
Piyush Sachan
Prakash Kumar
Raman Kumar
Robin Singh
Rohan Patel
Shivam Satyarhi
Subash Sharma
and M Gupta

Anurag Mishra stood 2nd in the run and won the 2nd prize in the 5km category.