Kolkata League 1st leg concludes
13/04/2010
The final day of Kolkata festival and the OTHL team started early and reached Julien Day Kalyani where a match between the home team and Julien Day Ganganagar was scheduled. The match started a bit late and Kalyani school were never in the game.

JDS Ganganagar kept squeezing out energy from the Kalyani team on the bright and hot morning by hitting the board at regular intervals. JDS Kalyani hardly made any circle penentrations and were mostly defending the onslaught from Ganganagar team.

The match ended convincingly in favour of JDS Ganganagar, 4-0. The man of the match for JDS Ganganagar went to Rajat Ghosh and for Kalyani it went to Dipanjan Biswas.

Both the schools, due to various reasons, had not prepared for the quiz. So, a short combined exhibition quiz was conducted for them.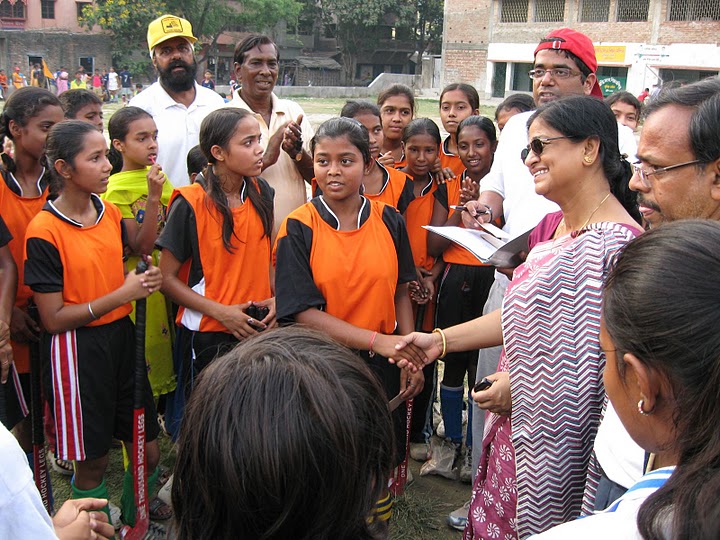 The presentation and check out those victory smiles!
Thereafter, OTHL team reached Shanti Sangha Siksha Mandir, Behala for the last few games. The tuft first match was played between the home team (Girls) v Kanaipur Sriguru School (Girls). This match was high on emotion and home team had even more support today. The direction of the ball judged the decibel level of the crowd.

Loosing 1 and drawing 1, home team was under tremendous pressure to give a treat to the supporters today and they did oblige. With the 1st half going goalless, the 2nd half brought a rain of goals. Shanti Sangha humiliated Kanaipur by one goal after the other. As they reached 4-0, the crowd was enjoying the treat. Kanaipur was brave enough to come back with a consolatory goal and that was the final whistle. The scored 4-1 and the home team supporters' joy had no ends. They ran and hugged their team players and it became a perfect end to the festival for them. Kanaipur team, under intense pressure, were emotional and few team players let their emotions loose and were seen weeping as well.

Tips at half time!!
The next match was between Khalsa and Brahamananda KC School. Khalsa continued their winning streak and beat BKC by 4-0.
The last match of the day and the festival was an exhibition match between Kanaipur (Girls/Boys mixed) and Thunderbirds team(Girls/Boys mixed). Thunderbirds team represents the children from Soura Niloy Complex, on Kailash Ghosh Road. The coach for this team is none other than OTHL Project Officer, Dr. Shankar K Chatterjee.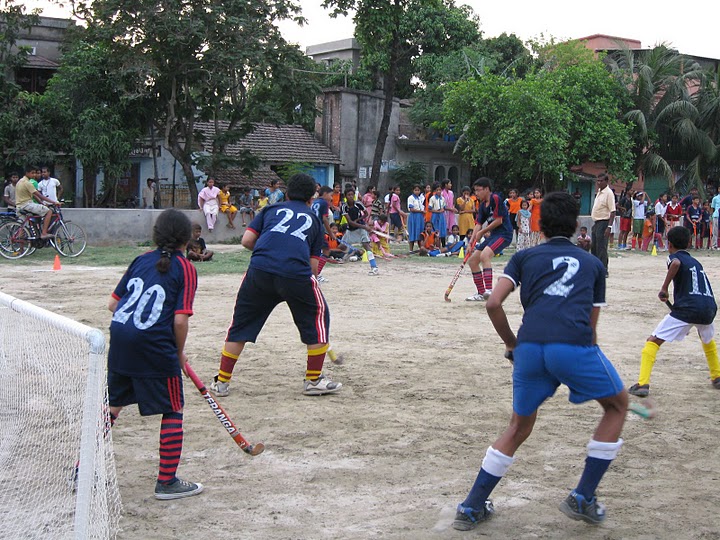 Thunderbirds all over.?
This match ended 13-1 in favour of Kanaipur Sriguru School.

This was followed by T-shirts distribution by Dr. Shankar Chatterjee to all the school children.

This marked the end of 3 day festival at Kolkata. 3 days of excitement, fun and thrilling Hockey. Till a few months back, most of these children had never picked a Hockey stick in their hands and now they have embraced this game so well. Long way to go for OTHL, Kolkata